One of the industry experts I learn from every time we speak is Ginny Kenyon, principal at Kenyon Home Care Consulting. Ginny helps open home care agencies and has given Ankota great inputs on our software. We at Ankota strongly believe that keeping elderly people healthy and comfortable in their homes (and out of the hospital) is an important step in the evolution of healthcare. Ginny is one of the pioneers driving moves in home health delivery. Enjoy her post (below).
Running any organization requires loads of paperwork – and a homecare agency is no exception. From employee files to policy and procedure manuals, the amount of documents you need to manage can quickly become a nightmare in disguise. When purchasing customized policy manuals, the task of writing and creating more paperwork is removed from your to-do list.
What I Love About Customized Policy Manuals
Need convincing that purchasing customized manuals is the right chose for you? Take a look at my 10 favorite things.
1. Designed to meet needs for a specific type of manual based on each agency's individual requirements.
In the world of homecare, there is no one-size-fits-all solution to policy manuals. Each organization has different requirements due to their location and the kinds of services offered. From Non-Skilled Home Health manuals to Medicare Home Health manuals and beyond, customization is key. This is especially true if your agency is housed in California, where the state requirements are particularly specific.
2. Personalized with your agency name.
Maybe you've shied away from pre-made manuals because of a lack of personalization. You want something designed and written especially for you, meeting your specific needs. With customized policy manuals, the name of your organization is displayed throughout.
3. Allowance for further customization by you.
Because these manuals are electronic, you can easily go to every page if desired and customize to match your organization's culture. For example, tailoring information specific only to your organization may include:
Hours of operation;

Community-specific disaster plans;

Names of governing board members;

Agency organizational chart.
4. Include policies to meet licensing, Medicare and/or CoP requirements.
Every type of homecare organization has differences. It can get overwhelming trying to maneuver through the jungle of licensing and regulations. Customized policy manuals are already complete with everything you need to meet whichever requirements apply to your agency. And making licensing and accreditation surveys a breeze.
5. Meet ACHC & CHAP accreditation standards.
Accreditation is an important step for your homecare agency. But staying organized to be sure standards are implemented into policies and updated is difficult. Customized manuals give you peace knowing that your're covered with the required policies to meet accreditation standards.
6. Saves you time and money.
Need manuals for a new Medicare agency starting up, an established agency wishing to update and refresh its operations, or a non-skilled agency seeking accreditation? Customized policy manuals provide exactly what you need. But without wasting time and money reinventing the wheel and writing policies from scratch.
7. Improve client care.
Client care is only as good as the people providing it. Customized manuals give your staff a complete, up-to-date, centrally located resource to follow and reference as needed.
8. Written by professionals.
Who would you rather have write your manuals? Some average Joe you hired off the street, or someone with years of experience in the homecare industry? Work with experts who have the knowledge to ensure your agency is compliant in all areas.
9. Designed with professional quality.
Customized policy manuals are written and designed with you and your staff in mind. Cross referencing makes it easy to locate specific policies. This is critical when preparing for and passing a state or accreditation survey.
10. Create a higher level of organization for your agency.
Most importantly, custom manuals allow you to take control of the documents necessary to run your homecare agency. The ability to update policies quickly makes your life simpler and less chaotic.
Customized Policy Manuals From Kenyon HomeCare Consulting
At Kenyon HomeCare Consulting, we know how to create the perfect document meeting all the needs of your specific agency. Our years of experience gives us a keen insight into the homecare industry. Reach out to us today to learn more.
This article, 10 OF MY FAVORITE THINGS ABOUT CUSTOMIZED POLICY MANUALS, first appeared in Kenyon HomeCare Consulting blog.
------
One of Ankota's recent care transitions whitepapers, entitled "Selling Care Transition Services to Hospitals" is available for download and we think you'll find it useful. Please click the link or the picture below to download. If you're interested in scheduling an online demo of our home care or care transitions software solutions, just click this button: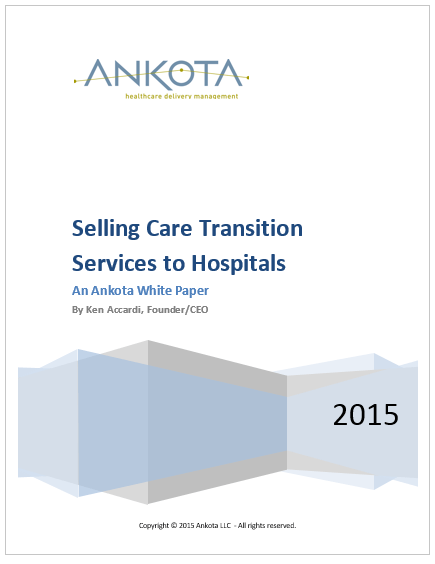 Ankota provides software to improve the delivery of care outside the hospital, focusing on efficiency and care coordination. Ankota's primary focus is on Care Transitions for Readmission avoidance and on management of Private Duty non-medical home care. To learn more, please visit www.ankota.com or contact us.