One of the industry experts I learn from every time we speak is Ginny Kenyon, principal at Kenyon Home Care Consulting. Ginny helps open home care agencies and has given Ankota great inputs on our software. We at Ankota strongly believe that keeping elderly people healthy and comfortable in their homes (and out of the hospital) is an important step in the evolution of healthcare. Ginny is one of the pioneers driving moves in home health delivery. Enjoy her post (below).
When it comes to training employees, there's no better way to create an elite homecare staff than with chronic disease education for aides. This advanced education goes far beyond simple traditional employee or caregiver training. With chronic disease education, your aides receive the knowledge and experience required to differentiate your organization launching you toward greater homecare success.
Benefits of Chronic Disease Education to Your Bottom Line
There are numerous programs from which to choose for employee training. But if you want your organization to succeed beyond your wildest expectations, then you need more than just training. You need in-depth education.
Here's how providing advanced chronic disease education for your aides saves money, boosts profits, and generally improves your bottom line.
Increases client satisfaction by providing a specific level of care designed for each diagnosis, leading to repeat business and more referrals.

Improves employee retention by providing a career ladder and opportunities for growth. This, in turn, saves money by reducing turnover.

Reduces rehospitalizations as a result of more knowledgeable aides who are better able to distinguish between serious warning signs and normal symptoms.

Provides the chance to advertise and offer unique services, which are essential with the rise of chronic diseases.

Gives you an edge over the competition because your staff is trained to provide specific services others can't provide.

Enhances your reputation within the community, leading to an influx of new clients.

Prevents legal penalties by ensuring aides manage client care correctly and efficiently.

Betters professional referral relationships and leads to an increase in referrals from these sources.

Reduces the cost of training because there are no lecturers to prepare or travel expenses to pay.

Online education stays up-to-date, current and easily accessible by your caregivers.
Choosing the Best Chronic Disease Education
You've made the decision to give chronic disease education a try. Now what? How do you choose the right program for your organization?First, consider your learners. Your aides are adults who work full time, in addition to having family and community obligations. Studies show that adults learn differently than younger students, so consider what adult learning principles are used when choosing an employee education program. For the best return on investment, choose education that is:
Convenient for learners

Relatable to real client care situations

Allows for independent self paced study

Cost effective for both employees and your agency
When you offer online education that enables aides to learn as their schedules allow, complete at their own pace, and affords elite status, they're more likely to excel.With online chronic disease education, your aides can study from the comfort of their own homes or in-between taking care of clients. They have the ability to learn at the tempo that works best for them, without taking away from their everyday responsibilities.
What Aide University Offers
At Kenyon HomeCare Consulting Aide University, students learn everything they need to provide top-notch, five-star chronic disease care to your clients. This program teaches aides how to recognize red flags, report condition changes before hospitalization is needed, and specific care options for chronic conditions. Aide University is the only online education program of its kind, so don't hesitate to contact us get started today!
10 REASONS TO PROVIDE ADVANCED CHRONIC DISEASE EDUCATION first appeared in Kenyon HomeCare Consulting blog.
Ginny Kenyon is the founder and CEO of Kenyon HomeCare Consulting, a home health consulting firm that gives agencies a market advantage, promotes creative product development, and offers viable ways to achieve and sustain organizational and fiscal success.
------
One of Ankota's recent care transitions whitepapers, entitled "Selling Care Transition Services to Hospitals" is available for download and we think you'll find it useful. Please download click the link or the picture blow for tips on how to construct optimal care transitions offerings and sell them to hospital partners in your geographies. If you're interested in scheduling an online demo of our home care or care transitions software solutions, just click this button: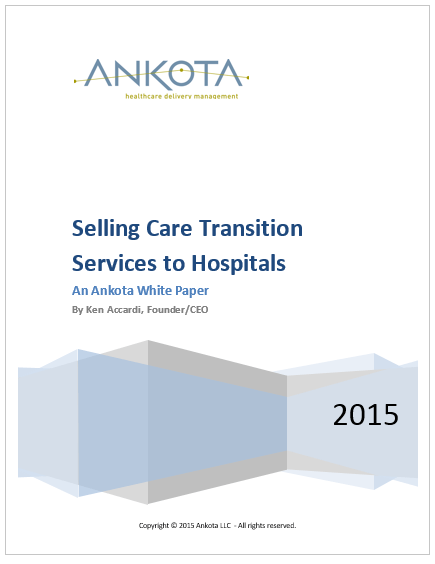 Ankota provides software to improve the delivery of care outside the hospital, focusing on efficiency and care coordination. Ankota's primary focus is on Care Transitions for Readmission avoidance and on management of Private Duty non-medical home care. To learn more, please visit www.ankota.com or contact us.