Ankota's marketing director, Jed Hammel doesn't come from the home care world but instead is an expert is social media marketing, filmmaking, event planning and more. His post today is a recap of an AARP article with tips for getting the most out of your next visit to the doctor. We hope you enjoy this article!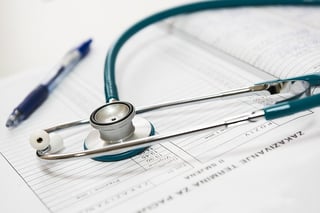 I recently had my yearly physical which is probably why this article from AARP, "How to Talk So Your Doctor Will Listen" by Amy Patural, resonated with me. Though I am not in AARP's demographic (yet), I found the article relevent to my experiences and I will be using the 10 tips in order to improve my interactions with doctors and other medical personnel in the future.
I'm guessing is that the article would be relevent and helpful to all sorts of folks. For Ankota's blog audience, my thought is that these tips are useful both for medical personnel in gaining insight into the challenges that lay-people face when comunicating with learned medical individuals. Beyond that, I feel that these tips may be a good resource for caregivers to share with the clients or patients under their care in order to improve the client's interactions with doctors and others in the medical field.
I suggest that you read the entire article, but here's a taste of what the full article covers:
Don't Accept 'It's Just Aging'
Don't Save Questions for the End
Explain What You Can Afford
Have That End-of-Life Discussion
Don't be Afraid to Make a Switch
Sometimes we can forget how much of an expert in our field we are that we forget what it's like to not be as learned as we may be. But when we are in a position of a not being an expert on a topic or situation, most of us know how frustrating that can be. So, if you have any suggestions or tips that you'd add to the list then feel free to comment below!
On the topic of learning, Ankota has a new White Paper available, entitled "Blueprint for the Next Generation of Healthcare at Home". Please click the link to download. If you're interested in scheduling an online demo of our home care or care transitions software solutions, just click this button:
Ankota provides software to improve the delivery of care outside the hospital, focusing on efficiency and care coordination. Ankota's primary focus is on Care Transitions for Readmission avoidance and on management of Private Duty non-medical home care. To learn more, please visit www.ankota.com or contact us.