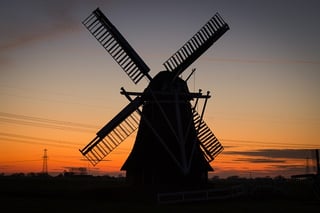 I always found "the Dutch" confusing... If we're talking about "the Spanish," the country is called Spain, the language is Spanish, and the people are either called "the Spanish" or Spaniards. It all makes sense. By contrast, the Dutch people are from the country sometimes referred to as the Netherlands and other times referred to as Holland. It's all quite confusing...
Nonetheless, the Dutch have come up with an interesting "neighborhood care model" that I learned about in this article.
Neighborhood Care Model
In summary, the neighborhood care model in the Netherlands works as follows:
There is a self-managed team of nurses providing the care

Rather than only providing the nursing portion of the services, the nurses are performing all needed home care tasks related to Activities of Daily Living (ADLs).

A team of about 10 nurses is able to manage the care needs for a town of around 10,000 people. Of course only a small number of residents need care.

On average a nurse sees 4 patients per day

One factor that makes this model possible is that all citizens have the same government provided insurance, so the nurses can collaborate easily with the associated physicians and don't have the burden of marketing and sales.
What Can Home Care in the US learn from This Dutch Model?
At Ankota, we focus on the "next generation of home care" and a big aspect of that is driven by demographics. Most importantly, the population of Americans over 80 (a good indicator for the home care market size) will triple in the next 20 years. We believe that, by necessity, the US model will need to change to a home care model where caregivers are providing services for multiple care recipients in a neighborhood model.
Here are some specific points to ponder and items we can learn from the Dutch model:
The care focuses on a community and embraces "population health" (which we don't seem to be embracing here in the US as explained in

this article about The Triple Aim).
Today in the US model, there are multiple visits to the home by specialists (nurse, aide, etc.) whereas in this Dutch model one person (a nurse) is doing all of the services. We believe in this model but don't think we'll have enough nurses and will instead want a model where home health aides are providing the care (and doing more med related tasks like loading pill-boxes under the training and direction of nurses)
We further believe that by having a caregiver provide services to multiple proximate care recipients instead of the current norm of seeing one care recipient per day, that we'll be able to pay caregivers a living wage with benefits.
Next Generation Home Care from Ankota
When your agency is ready to explore readiness for the next generation of home care including growth in the elderly population, moves to managed care delivery models, and optimizing care for population health, you'll be ready to meet with Ankota. If that time is now, please contact us.
Ankota provides software to improve the delivery of care outside the hospital, focusing on efficiency and care coordination. Ankota's primary focus is on Care Transitions for Readmission avoidance and on management of Private Duty non-medical home care. To learn more, please visit www.ankota.com or contact us.