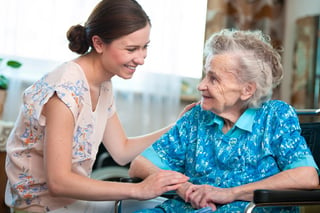 Today's guest post is from Emma Sturgis. Emma is a freelance writing currently living in Boston, MA. She writes most often on education and business. To see more from Emma, you can connect on Twitter via: @EmmaSturgis2
If you're a home-based caregiver to a patient who is sick or terminally ill, there are a few steps you can take to increase the health of their environment naturally and easily. Let's explore 3 natural ways to improve your patient's well-being at home:
Install A Whole-Home Water Filtration Unit
Water is essential to your patient's health, and they need to drink plenty of it every day. Unfortunately, the tap water in many areas also contains chemicals and may not be the purest or cleanest for your patient. It's beneficial to install a whole-home water filtration unit to ensure that any contaminants in the water are removed before your patient drinks or bathes in the water.
Replace Chemical-Based Cleaners & Personal Care Products With Natural Organic Alternatives
Most cleaners and personal care products are loaded with chemicals that could potentially be harmful to your patient's health. There are safer alternatives readily available that may make your patient feel more comfortable.
For basic cleaning tasks, natural substances like organic vinegar, organic castile soap, baking soda, water and essential oils are often all that's needed. If you're having trouble finding natural cleaners, it's a good idea to source personal care products at specialty retailers like health food stores. It's also possible to find organic cleaners and personal care products online.
It's particularly important to pay attention to the ingredients of any product that your patient could accidentally ingest by breathing, such as sprayed-on cleaners.
It's also critical to be aware of any ingredients that will come into direct contact with your patient's skin. Anything that gets on your patient's skin is likely to be absorbed into his or her body, so soaps and skincare products must be free of harmful ingredients.
Detoxify The Air In The Home With An Air Purifier
An air purifier can help to rid the air in the home of many contaminants including cigarette smoke particles, airborne mold particles, dust and more.
Since breathing secondhand smoke is harmful, this is a particularly important step to take if your patient lives in a household where a smoker is present. It's also a high priority if your patient lives in a home or apartment building where nearby neighbors smoke within close proximity of your patient.
These are just 3 simple steps home-based caregivers can take to help improve patients' well-being at home. If you're interested in caring for those who are sick or terminally ill, you may want to look into receiving further education and skills with an mha online.
If you're looking for additional ways to expand your knowledge-base or business, consider downloading our free white paper, Why Care Transitions Is The Next Big Thing for the Home Care Industry. Just click the link to download.
If you're interested in learning more about our home care management software solutions, or about our Care Transitions component as a way to increase revenue, just click the button below: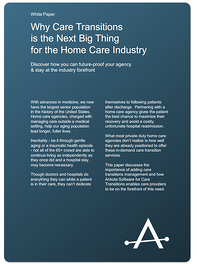 Ankota provides software to improve the delivery of care outside the hospital, focusing on efficiency and care coordination. Ankota's primary focus is on Care Transitions for Readmission avoidance and on management of Private Duty non-medical home care. To learn more, please visit www.ankota.com or contact us.