Your home care software vendor can be a great asset to your organization if you manage your relationship with them well. If you don't, they can be a nightmare... Here are three ways to maximize your relationship value:
1) Be Nice
When you need help from your vendor, it could be a stressful time, like when you need to get billing or payroll out the door with a tight deadline. There are some people who treat their software vendors (and other customer service people) with disdain and outright meanness. My advice is to consider the person on the other end of the line or the email as a partner who can help you and to treat them as such. Here's an example of a nice interaction I had with a customer today, via email. They had made some rate changes and one of their series wasn't billing correctly. I copied and pasted the email exchange below:

In this case, the customer is super-nice above and beyond the call of duty, but as a result, she gets great and fast support every time.
2) Be Specific
As a software developer working on customer issues, there's a little catch phrase that comes to mind, which is "if we can recreate it, we can fix it." So when you have an issue, the best thing you can do is to tell the customer support person exactly what to do to recreate the problem. Doing this will enable customer support to identify and correct the issue as quickly as possible.
3) Be Strategic
Healthcare technology is lagging behind many other industries but is undergoing a technology revolution at the present time. Also, there's a lot of new thinking and if you're managing your organization well, you probably expect to be dramatically different in two years than you are now. My advice is to tell your software vendor what you have in mind and see if they can help you. They might have some features you need that just need to be configured. They might also be willing to invest in order to grow with you. Give them the chance to grow with you!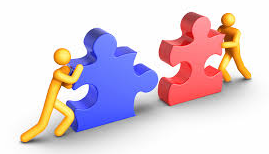 What to Expect in Return?
If you follow the steps above, you should expect fast response time, access to leadership, influence on the road map and high satisfaction with your vendor. If you find that you're trying to follow the best practices above, but you're not getting good service, then perhaps you should consider an upgrade.
How Do You Segment Your Clients or Patients?
Do you have clients who are mean to your caregivers and to your support staff, that consider everything to be your fault? How do these clients make you feel as compared to clients who thank you frequently, give good actionable feedback (even when it's constructive), and let you know what would make their experience better? Think about this when interacting with your software vendor and I guarantee you'll get better service.
On a somewhat related note, Ankota has a new video outlining our software solutions. If you're interested, take a look and let us know what you think!
Also, Ankota's 3rd care transitions whitepaper, entitled "Selling Care Transition Services to Hospitals" is now available. Please download click the link or the picture blow for tips on how to construct optimal care transitions offerings and sell them to hospital partners in your geographies. If you're interested in scheduling an online demo of our home care or care transitions software solutions, just click this button: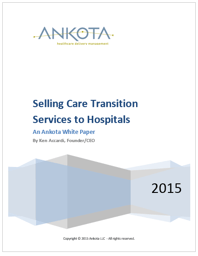 Ankota provides software to improve the delivery of care outside the hospital, focusing on efficiency and care coordination. Ankota's primary focus is on Care Transitions for Readmission avoidance and on management of Private Duty non-medical home care. To learn more, please visit www.ankota.com or contact us.