Today's guest blogger is Rachelle Wilber. Rachelle is a freelance writer living in the San Diego, California area. She graduated from San Diego State University with her Bachelor's Degree in Journalism and Media Studies. She tries to find an interest in all topics and themes, which prompts her writing. When she isn't on her porch writing in the sun, you can find her shopping, at the beach, or at the gym. Rachelle recommends investigating gerontology degree programs for those that are interested in being a caregiver. Follow her on Twitter at @RachelleWilber and on Facebook.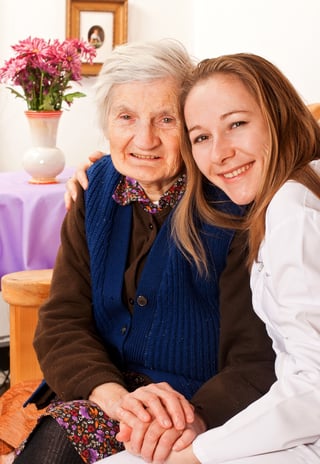 The more healthcare providers understand what is going on with your body, the better they can address pertinent issues and prevent them from growing worse. Home care attendants are there to help patients avoid complications and hospitalizations. Attendants can do this by paying close attention to their patients' behaviors and ailments. When proper attention is given, healthcare costs will go down and patient quality of life will be far better.
1.) Behavior Changes
It's important for healthcare attendants that work one-on-one with elderly patients to be cognitive of changes in a patient's condition. Healthcare providers should pay extra special attention to patients that have unique or particularly severe conditions or diagnoses. Patient cognition and motor skills should be closely monitored. If a patient has trouble remembering simple things like their birthday, address, or if they lose track of important items over and over, these behaviors should be reported to the supervisory nurse. These could be an indicator of memory problems, up to and including dementia, Alzheimer's or other conditions. Taking these kind of preventative measures will support patient health and well-being.
2.) Changes in Eating and Drinking
A caregiver's responsibility is to maintain the health of their patients. Closely monitoring how much a patient eats or drinks is also important. Possible ailments like gastrointestinal changes, such as constipation or lactose intolerance can affect appetite. Therefore, it's important for healthcare attendants to have a constant dialogue with those receiving care in home care situations. They should pay make note of how much a patient is eating and drinking each meal. Building a relationship with patients can help them feel more comfortable when talking about this kind of personal information.
3.) Skin Condition Changes
Physical changes like skin lesions, bruises, or skin conditions should be readily addressed to help mitigate complications. These could indicate psoriasis, eczema, seborrheic keratosis, or possibly a type of fungal infection. The skin can also show possible changes in liver function as well. A properly-functioning liver is incredibly important to the health of the elderly. Speak with the supervisory nurse if these sort of details are visible and bothersome. Making the appropriate decisions for patient health is paramount to successful healing.
4.) Changes in Mobility
Closely monitoring the motor skills of elderly patients is another aspect of patient care attendants should learn about. If a patient displays decreased mobility problems, these could be indicators of other problems. Conditions like atrophy, osteoarthritis, and bone degeneration are some to be aware of. Talk to patients and other attendants about the patient's mobility. Maintaining an open dialogue with patients about their physical limitations can also be a great benefit to caregivers. Attendants should be sure to report these sort of changes to their nurse.
When it comes to a patient's health, the more information you have about it, the more powerful you are. Well-trained home care aides and nurses make a difference in the quality of life for the elderly. They can also help lower home care costs. Speaking with other professionals and nurses that work together can help support optimum patient health. There is always a way to provide better care for the elderly by taking the needed steps required to maintain their health and independence.
Also, you may want to check out our white paper, Why Care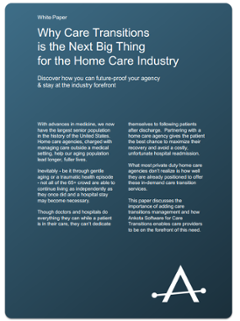 Transitions Is The Next Big Thing for the Home Care Industry If you're interested in learning more, just click the link to download.
Ankota provides software to improve the delivery of care outside the hospital, focusing on efficiency and care coordination. Ankota's primary focus is on Care Transitions for Readmission avoidance and on management of Private Duty non-medical home care. To learn more, please visit www.ankota.com or contact us.