A study performed by Frost & Sullivan and reported in an article posted by Hit Consultant, (a company that covers healthcare tech), found that: "the care coordination market is expected to grow at a compound annual growth rate (CAGR) of 26.1 percent between 2015 and 2020."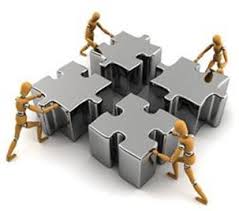 I encourage you to read the full article to have a full understanding of the findings, but here are a few key points drawn from the article that I found interesting:
4 Findings Your Home Care Agency Should Know About
The care coordination market is expected to grow at a compound annual growth rate (CAGR) of 26.1 percent between 2015 and 2020
An important driver in the care coordination market is the rapid adoption of new digital health solutions by payers and providers is the need to better track and manage patients across acute, ambulatory and home care settings.
To enable team-based care and ensure smooth care transitions and efficient use of healthcare resources, care coordination software should be flexible and extensible, with corresponding accountability, transparency of information, and ability to provide analysis and reporting among key stakeholders.
The solutions will enable care teams to implement and track care plans, engage patients in self-management, as well as provide closed-loop, 24/7 communication among all stakeholders, including patients and their families.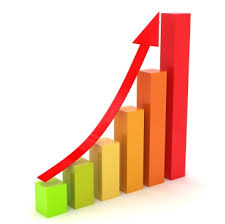 At Ankota, we believe that care coordination, home care expanding into care transitions, and the need for high quality management software to handle the process is essential for agencies to remain competitive in the rapidly approaching future. If you're ready to step up your agency's software or care transitons game, we'd love to help!
To learn more about the opportunity in Care Transitions, Ankota offers a free white paper, Why Care Transitions Is The Next Big Thing for the Home Care Industry that can offer you more insight on this topic. Just click the link or the picture below to download.
If you're interested in learning more about software solutions for home care or for care transitions, we'd love to help! To schedule an online demo of our home care or care transitions software solutions, just click this button: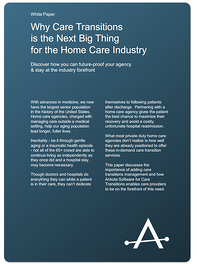 Ankota provides software to improve the delivery of care outside the hospital, focusing on efficiency and care coordination. Ankota's primary focus is on Care Transitions for Readmission avoidance and on management of Private Duty non-medical home care. To learn more, please visit www.ankota.com or contact us.