The United Health Foundation recently published an in-depth study on the health of seniors in the U.S. Here's the link for the entire report, but as a start, here's a quick rundown taken from the report to help whet your appetite:
"The 2016 America's Health Rankings® Senior Report provides a comprehensive analysis of senior population health on a national and state-by-state basis across 35 measures of senior health. Now in its fourth year, it continues to serve as a resource for individuals, community leaders, policymakers, public health officials, and the media to benchmark each state's performance on key measures of health and wellness for the senior population."
The study reveals a number of findings that some of us may find surprising, while for others, the findings may reinforce what they already experienced.
Again, I strongly suggest reading the full report here, as there are too many key takeaways to share, but here are a few as a start:
Preventable Hospitalizations are Down 9%

Teeth Extractions in Seniors is Down 8%

Hip Fractures in Seniors are Down 5%

Home Health Care Up 18%
As you can probably surmise, health care and home care will continue to work together in the future.
Our white paper, Why Care Transitions Is The Next Big Thing for the Home Care Industry addresses this from a bit of a different angle. If you're interested in learning more, just click the link to download.
If you're interested in learning more about our home care management software solutions, or about our Care Transitions component as a way to increase revenue, just click the button below: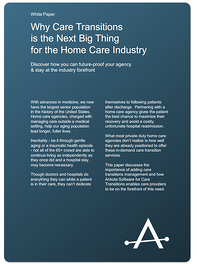 Ankota provides software to improve the delivery of care outside the hospital, focusing on efficiency and care coordination. Ankota's primary focus is on Care Transitions for Readmission avoidance and on management of Private Duty non-medical home care. To learn more, please visit www.ankota.com or contact us.