One of the industry experts I learn from every time we speak is Ginny Kenyon, principal at Kenyon Home Care Consulting. Ginny helps open home care agencies and has given Ankota great inputs on our software. We at Ankota strongly believe that keeping elderly people healthy and comfortable in their homes (and out of the hospital) is an important step in the evolution of healthcare. Ginny is one of the pioneers driving moves in home health delivery. Enjoy her post (below).
Many caregivers receive little or no basic training. However, specific certifications such as Home Health/Hospice Aide or Certified Nurse Aide (CNA) require completion of a federal or state approved training program. Always check your state regulations to determine the education requirements for personal care aides and homemakers.
Hiring the best most qualified homecare staff, is not only crucial to your organization's success but also to the well-being of your clients. So, what can you to do to ensure your caregivers become elite staff dedicated to your mission? First of all, hire the best people available, and then provide them with top-notch disease management training.
The Benefits of Disease Management Training for Aides
Unfortunately, under trained caregivers leads to negative repercussions for your organization. Disease management training prevents high turn over rates and produces satisfied, knowledgeable staff who provide exceptional client care. Make sure your team is fully equipped to provide the specific care that clients with chronic disease require and demand!
Check out these ten benefits of disease management training, also known as chronic disease education.
1. Creation of an Elite Staff
What is considered an "elite staff?" Basically, it's a team made up of employees who are dedicated, show interest in furthering their careers, and are determined to meet both personal and agency-wide goals.
By providing advanced disease management education, you give employees the tools they need to succeed in delivering knowledgeable client care. And you reap the secondary benefits of increased referrals and improved client satisfaction.
2. Increased Employee Retention
We've already mentioned that advanced chronic disease education helps create an elite staff. But what many owners and managers don't realize is that this, as a result, reduces turnover. Employees well-equipped to perform their jobs, get a sense of confidence and accomplishment—making them happy in their careers and less likely to search for something new.
3. More Competitive Edge
Not all homecare agencies go the extra mile to provide disease management training for aides. Doing so sets your organization apart from the competition, giving you the edge and ability to promote your specialty services.
4. Reduced Rehospitalizations
You know that Medicare is cracking down on rehospitalizations. The more often your clients are admitted to the emergency room or hospital, the more penalties you and your hospital partners face. However, educating your staff on chronic diseases prevents trips to the ER, because caregivers are trained on the warning signs to look for, medication side effects, and when to call for help.
5. Improved Client Satisfaction
This one's simple! Staff with an exceptional knowledge and understanding of chronic diseases and how to care for clients suffering from such conditions, are able to provide superior care. And resulting in more satisfied clients!
6. Opportunity to Expand Services
If you've been looking for ways to grow your homecare organization, expanding the services you offer could be the answer. Disease management training allows you to offer and provide additional services.
7. Community Satisfaction
Chronic diseases are among the top causes of death for US citizens. With the Baby Boomer generation aging and developing these conditions, chronic disease education is crucial.
8. Increased Profits
By being able to offer specialized services after your aides have undergone disease management training, you'll see an increase in your profits. This happens as you're able to charge more for these services, and because you can provide care to a larger group of people.
9. More Referrals
We mentioned earlier that chronic disease education improves client satisfaction. What does this mean for you? More friends and family referrals. Additionally, it means more professional referrals, because when other medical professionals in your area hear of your elite staff, they'll be inclined to send their patients your way.
10. Save Time and Money
Online disease management training is easily accessible for aides—and very affordable for owners. Eliminates outside seminar costs, speaker fees, and time away from work. And, caregivers have the ability to complete the courses at their convenience and at their learning pace
Working with Kenyon HomeCare Consulting for Disease Management Training
When you're ready to take your organization to the next level, reach out to the experts at Kenyon HomeCare Consulting or call 206-721-5091 for more information on disease management training offered through Aide University.
This article, 5 MINUTES, 10 REASONS TO INVEST IN DISEASE MANAGEMENT TRAINING first appeared in Kenyon HomeCare Consulting blog.
------
One of Ankota's recent whitepapers, entitled "Selling Care Transition Services to Hospitals" is available for download and we think you'll find it useful. Please click the link or the picture below to download. If you're interested in scheduling an online demo of our home care or care transitions software solutions, just click this button: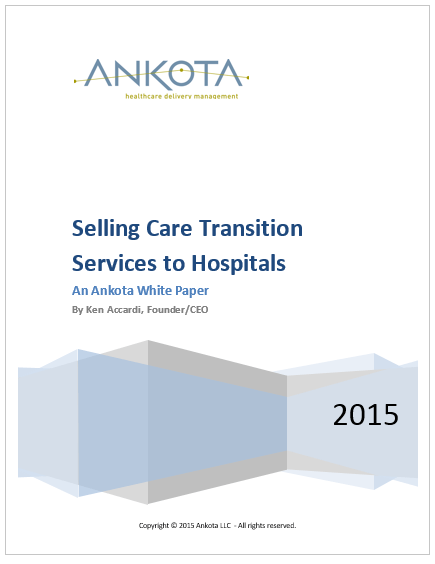 Ankota provides software to improve the delivery of care outside the hospital, focusing on efficiency and care coordination. Ankota's primary focus is on Care Transitions for Readmission avoidance and on management of Private Duty non-medical home care. To learn more, please visit www.ankota.com or contact us.