Today's guest blogger is Anica Oaks. Anica is a professional content and copywriter who graduated from the University of San Francisco. She loves dogs, the ocean, and anything outdoor-related. She was raised in a big family, so she's used to putting things to a vote. Also, cartwheels are her specialty. You can connect with Anica here. Today's blog outlines 5 ways that home care and home healthcare can help your prospective clients. If you're looking for a way to illustrate to folks the value of home care, here are some tips:
Caring for an aging loved one can be a full-time obligation, and that is why so many families have turned to home caregiving. Here is a look at just a few benefits that a professional in-home caregiver can offer you and your loved ones.
Protects Their Personal Freedom
One of the biggest fears that many retirees have is losing their independence. As they become more reliant on outside help, they often feel as if their personal freedoms are stripped away. By receiving care in their own home, they will have more control over the daily activities that give them a sense of purpose and keep them satisfied.
Avoid Injuries
Over 2.8 million seniors are treated for serious fall injuries every year, and falls are just one of the many types of accidents that can take place in a home. Professional caregivers know just how dangerous homes can be, and they will carefully watch over the property to limit the chance of an accident taking place. That includes simple maintenance such as changing out old light bulbs and cleaning up clutter on the floor.
Professional Training
Even though you want what is best for your loved one, you might not have the skills that are needed to care for them as they grow older, especially if they have complicated health conditions. In-home caregivers undergo extensive training and are often overseen by medical professionals who have degrees from in-campus and online nursing schools and other relevant certifications. They also have specialized training to deal with medical emergencies, and that could save your loved one's life in the event of an accident.
Save Some Money
A number of different factors are taken into consideration when determining the cost of in-home care, but it is often much more affordable than a caregiving facility. For those who live on a fixed income, in-home care could be one of the most cost-effective options. Nursing homes and assisted living facilities can easily cost thousands more per year.
Personalized Care
We are all going to have different needs as we grow older, and there is no single style of care that is right for everyone. When hiring a home caregiver, you and your loved ones can come up with a personalized plan that all parties agree to. This includes details such as when errands will be run and what days the caregiver will be there.
By staying in their own home with a professional caregiver, your loved one can enjoy their days in a comfortable and safe environment.
On a related note, you may want to check out our white paper, Why Care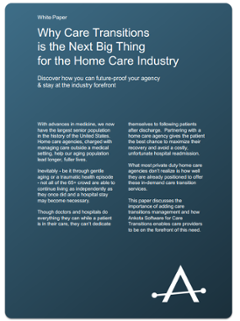 Transitions Is The Next Big Thing for the Home Care Industry If you're interested in learning more, just click the link to download.
Ankota provides software to improve the delivery of care outside the hospital, focusing on efficiency and care coordination. Ankota's primary focus is on Care Transitions for Readmission avoidance and on management of Private Duty non-medical home care. To learn more, please visit www.ankota.com or contact us.