A study of 3,000, (conducted by Nuance Communications and reported here), of patients in the US and Germany, concluded that patients are spending less than 10 minutes with their doctor in appointments and turning to technology to enhance their health care experience. A few key findings were as follows:
Physicians need to focus on establishing a personal connection through a handshake, eye contact, 1-on-1 conversation and privacy
68% of questions are coming to the doctor with questions
39% have done on line research before visiting the physician
20% are bringing data from outside health monitors
The focus and conclusion of the study was that patients are getting more comfortable with health information technology.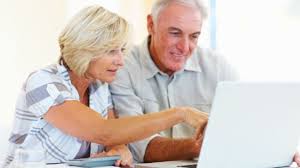 How do these results relate to Home Care clients?
What's not clear in the study is how many of those patients are of "home care age", in their upper 70s and above, and whether they are getting value from health information technology or not.
Tech savvy among the elderly varies greatly. If I look at my own parents, my mom is 78 and she's pretty tech savvy. She uses an iPhone and has several computers that she uses for browsing applications and facetime with my niece. By contrast, my dad passed away at age 71 and he had grown up in the corporate world with secretaries who did the typing and others who used the computers. He would be 83 as I write this and I don't think he would have learned or embraced technology.
While two parents does not make a statistically significant sample, I believe that it is somewhat representative. In addition to being tech savvy, my mom is very independent and years away from needing home care. From what I experience through our home care customers, I perceive that typical home care clients are more like my dad.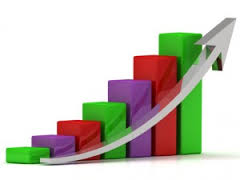 What Can Home Care do to improve the Engagement between our Clients and Physicians?
I fundamentally believe that home care age individuals are the most important population segment from the standpoint of healthcare improvement, but that these individuals are not taking advantage of health information technology. My perspective is that home care can bridge the gap for them. Here are 3 ideas:
Make sure that your clients are having regular visits with their physicians
If there is not a family member to take them to their appointments, position one of your people (perhaps an aide or supervisory nurse) to accompany them
Prior to an appointment, ask your client what things they would like to ask their doctor and write them down.
If there are items not mentioned by the patient that are of concern to the aides who work with the client, write these down as well.
If the client is able and interested, Google the questions with them and see if they can be more educated before going to the appointment
Make sure that these questions are asked at the appointment
If you can handle the services described above, then your agency is likely to be ready to expand into the world of care transitions. We have a free white paper, Why Care Transitions Is The Next Big Thing for the Home Care Industry that can offer you more insight on this topic. Just click the link or the picture below to download.
If you're interested in scheduling an online demo of our home care or care transitions software solutions, just click this button: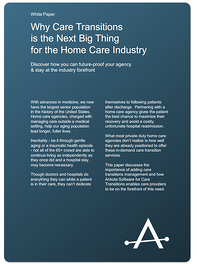 Ankota provides software to improve the delivery of care outside the hospital, focusing on efficiency and care coordination. Ankota's primary focus is on Care Transitions for Readmission avoidance and on management of Private Duty non-medical home care. To learn more, please visit www.ankota.com or contact us.