People who provide continual care for others, whether they be professionals or family members, are at risk for caregiver stress and burnout. This is why it is critical to learn the signs of caregiver stress and learn effective ways at dealing with it. If not dealt with, the stress will lead to burnout, and this can ultimately lead to a dissatisfied client for your home care agency.
Signs of Caregiver Stress
Exhaustion. Being tired is one thing, but complete exhaustion, which interferes with daily chores, is a problem. Exhaustion is a type of fatigue that doesn't go away after a good night's sleep.

Poor Concentration. No matter how hard they try, the caregiver can't focus on anything. Their attention is always on the person for whom they're providing care.

Anger and Frustration. Losing their temper with the one they are providing care for may be a sign that the care giver is feeling too much caregiver stress. You can find other signs of negative caregiver emotions in this guide.

Escape. Drinking, smoking and over-eating are all used to escape the feelings of stress. If a caregiver finds themselves longing to engage in any of these activities, they may be reaching the end of their rope.

Health. According to National Alliance for Caregiving, about half of caregivers reported a decline in their health since taking on the task. If a caregiver seems to be catching every little bug that comes along; it may be due to caregiver stress.
Ways That Home Care Leaders Can Combat Caregiver Stress
If you own a home care agency, make sure to perform supervisory visits to detect caregiver stress or other signs of a declining relationship between a caregiver and client.
Consider that it may be somewhat the client's fault. While some clients may be easy to deal with, others may be more difficult, and it may be worth making adjustments so that the caregiver is in a more favorable situation, even if it means sharing the tough clients across a number of caregivers.
On long shifts, strive give your caregivers a break. If they can take a walk in the park, listen to music, or do anything that allows them to relax, it can be excellent therapy.
Educate your team. Help them to learn about the diseases of the person for whom they are providing care. The more they know about the diseases and their progression, the more they'll know what to expect.
When you do in-service meetings, allow time for your care providers to talk among themselves to blow off steam, share ideas and ultimately relieve stress.
If you're interested in learning other home care best practices, please download our free white paper, the Seven Habits of Highly Effective Home Care Agencies. Just click the link or the picture below to download.
If you're interested in scheduling an online demo of our home care or care transitions software solutions, just click this button: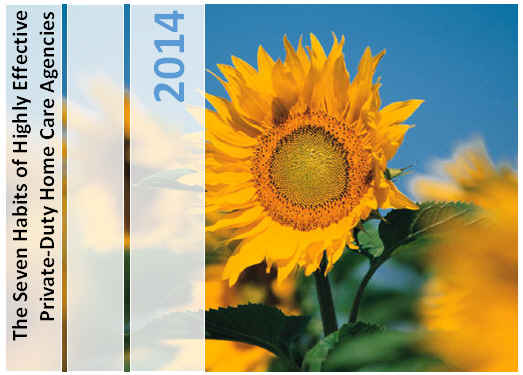 Ankota provides software to improve the delivery of care outside the hospital, focusing on efficiency and care coordination. Ankota's primary focus is on Care Transitions for Readmission avoidance and on management of Private Duty non-medical home care. To learn more, please visit www.ankota.com or contact us.