One of the industry experts I learn from every time we speak is Ginny Kenyon, principal at Kenyon Home Care Consulting. Ginny helps open home care agencies and has given Ankota great inputs on our software. We at Ankota strongly believe that keeping elderly people healthy and comfortable in their homes (and out of the hospital) is an important step in the evolution of healthcare. Ginny is one of the pioneers driving moves in home health delivery. Enjoy her post (below).
Starting a new homecare agency or launching a new business line in your existing organization can be a tricky process. There are layers upon layers of details to handle, and going about it on your own leads to frustration and, oftentimes, failure. In this article, we'll focus on seven deadly sins of starting homecare without professional help. Many homecare owners unknowingly commit these mistakes when attempting to start a new organization or business line alone.
Starting Homecare Without Help
No one ever means to sin—it's simply human nature. But when it comes to launching a new homecare agency or business line,there's something you can do about it. Here are the seven deadly sins that a professional consultant helps you avoid.
1. Failing to Establish Effective Processes
Without the right procedures in place and easily accessible to all staff, situations can quickly turn into chaos. Start your agency off on the right foot by establishing detailed processes for every aspect of your business.
An experienced homecare professional guides you in the right direction to define and refine which processes will work best for your particular agency type or new business line.
2. Ignoring the Needs of Your Community
Your efforts will be wasted if no one in the community benefits from your services. But it's not always easy to know exactly what your neighbors need or want. Working with an expert familiar with your area's demographics and the homecare industry gives a better understanding of which services to offer.
3. Stealing Your Staff's Future
Of course you don't intend to steal the hopes and dreams of your team members. But that's exactly what happens when you fail to provide the best training and education needed to provide excellent care while advancing their careers. To give your staff unsurpassed knowledge, consider an online education program run by industry experts.
4. Breaking the Policies and Procedures Commandments
Part of creating a successful homecare organization is obtaining complete up to date policies and procedures manuals. These manuals must include federal and state regulations and accreditation standards necessary for compliance and superb client care. If you're not sure of all that must be included to be industry compliant, work with a professional to customize manuals for your agency.
5. Disobeying the Law
Legal regulations are a source of irritation for most of the homecare industry. But they are absolutely necessary to ensure quality care, to weed out any "bad apples," and to continue to grow your business.
Unfortunately, this is no easy task since each state has different regulations. A homecare consultant knows what's required in your state and is able to help your agency be compliant.
6. Practicing Poor Ethics
Being ethical in business is always important, but it's even more crucial when you work with the sick and elderly. Making sure your staff knows the correct principled way to provide client care and what's improper is vital. An industry expert understands how to help your agency avoid unwanted ethical issues.
7. Being Stuck in Your Old Ways
Probably one of the biggest reasons for homecare failure is the lack of willingness to change. When starting homecare or a new business line, your consultant will guide your decisions, encourages you to be flexible and helps you see how change leads to new opportunities.
At Kenyon HomeCare Consulting, we will support every aspect of your starting homecare journey. From marketing to policies and procedures, we have the experience necessary to prevent you from committing any of these seven deadly sins of starting homecare without professional help. Reach out to us to schedule a time to learn more!
This article, 7 DEADLY SINS OF STARTING HOMECARE WITHOUT PROFESSIONAL HELP first appeared in Kenyon HomeCare Consulting blog.
------
One of Ankota's recent whitepapers, entitled "Selling Care Transition Services to Hospitals" is available for download and we think you'll find it useful. Please click the link or the picture below to download. If you're interested in scheduling an online demo of our home care or care transitions software solutions, just click this button: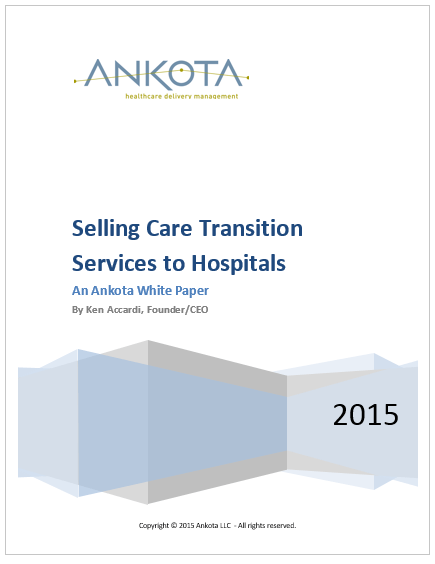 Ankota provides software to improve the delivery of care outside the hospital, focusing on efficiency and care coordination. Ankota's primary focus is on Care Transitions for Readmission avoidance and on management of Private Duty non-medical home care. To learn more, please visit www.ankota.com or contact us.