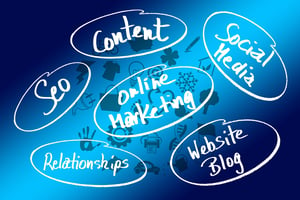 An article written by Jason Chagnon and published on the Home Care Pulse website called "Growth Marketing for Startup Home Care Agencies" offers a series of detailed yet simple steps and suggestions for how to improve your home care startup's marketing and promotion strategy.
Along with providing a number of useful and relatively simple-to-implement approaches to market your home care agency, he also explains what "growth marketing" is and why it's important to any agency owner or marketer.
Here's a short excerpt from the article:
There are many buzz phrases these days, and new home care agency owners can have trouble keeping up with the lingo. But growth marketing is one worth knowing.

Here's an easy way to understand the concept: Growth marketing attempts to maximize client acquisition ROI by efficiently engaging large audiences via multiple outreach channels. These often include search engine optimization (SEO), social media outreach, creative/educational content publication, blog posts and email marketing campaigns. All of these activities are then tracked through analytics to determine relative success and further hone marketing efficiency.
1. Monthly Newsletters
2. LinkedIn, Facebook and Social Media
3. Regular Blog Posts and Articles
4. Subject Matter Expert (SME) Interviews, Video Posts and Podcasts
5. SEO, Google Tools & Online Reviews
6. Charity & Community Collaboration
7. Targeted Advertising
What marketing approaches have work best for you? Which approaches have you tried but didn't work out how you planned? What are your takeaways for why one approach worked for you over another approach?
Please feel free to share any experiences, suggestions, or Best Practices that you'd like to offer by posting in the comments section.
If you are seeking home care management software to help improve efficiency for your agency, please feel free to reach out to us by clicking the button below to learn more about what Ankota can do for you:
Ankota provides software to improve the delivery of care outside the hospital, focusing on efficiency and care coordination. Ankota's primary focus is on Care Transitions for Readmission avoidance and on management of Private Duty non-medical home care. To learn more, please visit www.ankota.com or contact us.