One of the industry experts I learn from every time we speak is Ginny Kenyon, principal at Kenyon Home Care Consulting. Ginny helps open home care agencies and has given Ankota great inputs on our software. We at Ankota strongly believe that keeping elderly people healthy and comfortable in their homes (and out of the hospital) is an important step in the evolution of healthcare. Ginny is one of the pioneers driving moves in home health delivery. Enjoy her post (below).
Change is inevitable in business, just as it is in life. What makes an organization successful is how it deals with that change. Have you ever wondered how your competitors always seem to be at the top of their game, even in the face of a major transition? Maybe they've discovered the biggest secret to success in the homecare industry: interim management.
Mistakes Interim Management Prevents
There are certain mistakes that are unavoidable in the homecare industry. But if your competitors constantly outshine you, we can guarantee they are NOT doing these eight things during times of transition.
1. Decreasing Productivity
When a key employee leaves an organization for whatever reason, it often causes a severe case of "overwork-itis." The work the former employee was responsible for still needs to be done, so it gets distributed among remaining team members. This overload causes discouragement and feelings of being overwhelmed. These feelings lead to a lack of productivity.
Interim management prevents this overload by providing a "stand- in" employee to cover the vacant position efficiently and effectively.
2. Resisting Change
Change is hard. It takes courage. Many homecare agencies resist change because they're too involved to see a clear path toward success.
An interim manager helps foster new ideas and goals because of the unbiased ability to evaluate organizational strengths and weaknesses from an objective perspective. And from this viewpoint, the road to positive change is unobstructed.
3. Failing to Properly Acclimate New Hires
You can land the perfect fit for your management position. But if that person isn't properly acclimated to the job or into your culture, their chances for success greatly diminish.
When working with an interim manager, you receive continued support after hiring a replacement. Your interim manager will train and acclimate the new employee, encouraging a smooth transition.
4. Missing an Opportunity to Branch Out
Expanding your organization, adding a new service, or creating a new business line is beneficial to your clients and profits. But, almost impossible when trying to accomplish this feat alone.
An interim manager provides the experience needed to achieve your growth goals. Your competitors aren't the only ones who have the key to successful expansion.
5. Disengaging Employees
Employee engagement is crucial to the success of any homecare agency. But when unexpected terminations happen, it can affect the way existing employees view their job security, leaving them disengaged.
An interim manager, keeps things running smoothly and assures your team that your organization is thriving during even during a transition.
6. Missing Out on Family Time
One thing owners and managers know: it's all too easy to lose yourself in the job and neglect your life. There's always one more thing to do, one more phone call to make, or another email to check.
Surprisingly, the most successful organizations aren't those whose top-level employees spend 60 plus hours working. They're the ones who learn to work smarter instead of harder. Hiring an interim manager while searching for a replacement puts this principle into practice. It prevents you from becoming burnt out as a result of picking up the slack.
7. Sabotaging Their Reputation
If you're not careful, the wrong move during a time of change can lead to a smudge on your reputation within the community. This often results in lost clients, referrals or employees. Engaging interim management helps maintain your reputation and minimizes staff upset during these times.
8. Losing Referrals
Chaos within an agency often leaks into employees' daily work. In your homecare organization, this could mean the level of client care falls. What does that matter? When clients aren't satisfied, they shy away from referring their friends and family and tell their physician.
Making Interim Management Work for You
If you want in on this secret to success that your competitors seem to have up their sleeves, schedule a time to speak with a Kenyon HomeCare Consulting expert, or call 206-721-5091.
8 MISTAKES AVOIDED BY YOUR COMPEITORS: ENGAGE INTERIM MANAGEMENT first appeared in Kenyon HomeCare Consulting blog, entitled, "8 Mistakes Avoided By Your Competitors: Engage Interim Management."
Ginny Kenyon is the founder and CEO of Kenyon HomeCare Consulting, a home health consulting firm that gives agencies a market advantage, promotes creative product development, and offers viable ways to achieve and sustain organizational and fiscal success.
------
One of Ankota's recent care transitions whitepapers, entitled "Selling Care Transition Services to Hospitals" is available for download and we think you'll find it useful. Please click the link or the picture below to download. If you're interested in scheduling an online demo of our home care or care transitions software solutions, just click this button: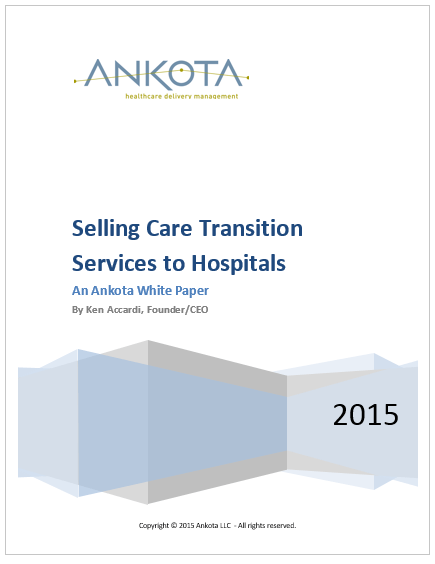 Ankota provides software to improve the delivery of care outside the hospital, focusing on efficiency and care coordination. Ankota's primary focus is on Care Transitions for Readmission avoidance and on management of Private Duty non-medical home care. To learn more, please visit www.ankota.com or contact us.