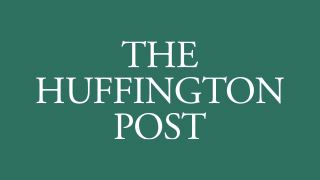 A recent viral video, "A 97-Year-Old Visits Google, Is Flabbergasted By 'The Future'" has made the rounds on a number of established media outlets, including USA Today, CNN, CBS, and the Huffington Post. You can read the HuffPo's entire article via this link.
It's a cute story that has evoked comments like "I hope I'm as sharp as she is when I'm her age," but rather than cute, I found it to be very poignant.
Granting the wish (and reporting the story) of an elder by giving her an opportunity to experience the pinnacle of web technology companies, something very few of us will ever be able to do, honors her and all our elder citizens in a great way.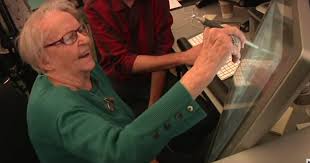 The story got me thinking though. No offense to the Huffington Post or the other media outlets, but I wonder how "clickable" and viral a headline of: "37-Year-Old Visits Google, is Flabbergasted by 'The Future'" would be to the internet? I would guess not very. I mention this because as I watched the video and read the story, as someone who considers himself pretty tech-savvy, I thought to myself that I would've been just as flabbergasted by the experience of visiting Google as the elder woman in the story was.
We live in an dizzying time of rapidly advancing technology that becomes a part of our lives seemingly in a blink of an eye. Not only is it hard for me to keep up on all the advances, but since technology is a pretty integral part of my daily life, it's sometimes easy for me to forget just how "flabbergasting" and amazing it is to live in this technological age of ours.
The 97-Year-Old woman and I are in the same boat, being "flabbergasted" by the future, as I imagine a lot of other people are as well.
This idea brought me to another thought, that I've noticed a tendency of some to judge different generations, older or younger than them, as something foreign, instead of as full human beings on different parts of the same journey as their own. I feel that there is an erroneous idea out there that if you're younger, then "you haven't lived yet" while on the other hand, for our elder citizens, curiosity and personal growth somehow comes to a halt at a certain age. This, of course is nonsense, but it got me thinking again.
For me, I am looking forward to getting older and enjoying each phase of my life while learning and growing as a person with each step along the way. Home Care folks understand this concept probably a lot more than most. Home Care is all about caring for the person, understanding who they are, what they need, where they've been, and where they want to go.
The point is that the world moves pretty fast these days, and technology plays a broader role in our lives with each rotation. But stories like the 97-year-old visiting Google reminds us that whether we're 17, 37, or 87, it's an amazing time in which we live and technology is for everyone.
The Role of Technology and Innovation in Home Care



The actionable takeaways from all of this musing of mine are as follows
Your clients or patients may be more interested in current technology and upcoming tech trends than one might think. Perhaps integrate the use of tech or learning about tech into your interactions with them.

Technology changes fast and it's hard to keep up with each innovation, but to stay competitive in your market, compliant with regulations, and so on, it's important to keep your tech as current as possible

Choosing tech vendors that can grow and change along with you is vital to keeping your business strong
The right technology can allow you to focus more on caring for your clients instead of dealing with paperwork and admin

Home care is about seeing a client as a person with unique wants and needs, first and foremost. The same should be true of the vendors you partner with.
Speaking of partnering, Ankota has partnered with a new company called Triple Aim Technologies, that helps home care and home health agencies achieve the Triple Aim. Click here to learn more about the Triple Aim and download a free whitepaper by clicking here: "How Homecare Can Win Under the New Care Model".
If you're interested in scheduling an online demo of our home care or care transitions software solutions, just click this button: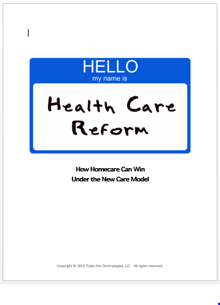 Ankota provides software to improve the delivery of care outside the hospital, focusing on efficiency and care coordination. Ankota's primary focus is on Care Transitions for Readmission avoidance and on management of Private Duty non-medical home care. To learn more, please visit www.ankota.com or contact us.