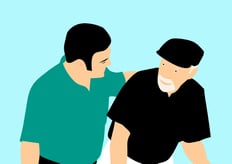 The biggest challenge reported by larger home care agencies is the difficulty in acquiring and retaining talent. If you look at the graphic below, it's clear that the situation will only be getting worse. As the Baby Boomers age, with female average life expectancies pushing 90 and male life expectancies nearing 85, the challenge is only going to get worse (but don't despair – the market for home care is on a strong growth path).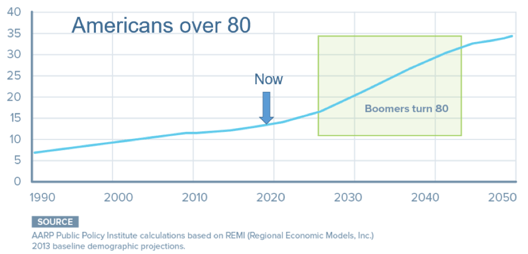 One of our articles that has garnered lots of feedback talks about getting caregivers to a $15/hour wage while increasing profitability for your agency. In that article, the concept is to deploy caregivers to a neighborhood where they can provide care services to a number of clients at once and be close to other clients if a need arises. For those of you who use Uber, it's like UberPool (which is service from ride-sharing company, Uber that combines rides for multiple consumers going in the same direction).
What is Adult Day Care?
The concept of adult day care is straightforward. Instead of sending one caregiver to one client home at a time, an alternate concept is to bring multiple clients into an adult day care center. Here you can have a care staff and a nutrition staff providing care services for many recipients. The goal, of course, would be to provide care for more consumers at a lower cost by having 1 staff member for 3 or 4 clients as opposed to 1-to-1. We believe that shared care will become a necessity as the market grows and the caregiver pool doesn't.
How Does Adult Day Care Software Work?
Adult day care software is similar to home care software, and in fact, we provide it either as a feature with Ankota's home care software or as a standalone offering. The key concepts are as follows:
When you onboard a client who will be receiving daycare, you connect them to a day care facility (in Ankota, it's a drop-down choice).

Similarly, you can connect caregivers to the facility or facilities where they work.

Instead of having your caregivers clock-in and out of a visit with a client, they sign in for a shift at the day center. Over the course of that shift, they're likely to provide care for many clients.

Similarly, you record the arrival of clients into the facility and mark their departure when they leave without connecting them to individual caregivers. Ankota's software let's you drag them from left (out of the facility) to right (at the facility).

Care staff can report the completion of tasks or fill out other client documents from kiosks at the center (or on individual phones or tablets)

Billing is based on each individual client's time at the facility, and payroll is based on caregiver shifts
Want to Learn More About Adult Day Care Software From Ankota?
Let us know by clicking the button below and we'd be happy to show you how it all works!
Ankota provides software to improve the delivery of care outside the hospital, focusing on efficiency and care coordination. Ankota's primary focus is on Care Transitions for Readmission avoidance and on management of Private Duty non-medical home care. To learn more, please visit www.ankota.com or contact us.