Over the past 150 years or so, the nursing profession has changed enormously. At one time it was a a limited vocation. It's now a respected career for thousands of dedicated, trained and well-educated people of both genders. If you're attracted to nursing as a career, take a few minutes to think about how it's evolved, as well as some more current trends.
Lady with the Lamp
For most of history, nursing was done in the home by family members. It wasn't even recognized as a distinct profession. Many people feel that modern nursing began with social activist Florence Nightingale. During the Crimean War of 1853-1856, the British government asked for her help managing the deplorable conditions in their field hospitals.
Along with a band of compatriots, she saw to it that practices for sanitation, fresh air, healthy food, and distribution of medicine were followed. An admiring world saw the wisdom in Nightingale's insistence on the need for trained and experienced nurses. The first nursing school in the U.S. opened its doors in 1873.
Hospital Era
Over the ensuing decades, urban populations soared and infectious illnesses became a universal threat. Civilian and medical authorities saw the need for facilities where the sick and injured could be efficiently treated. But the level of care in early hospitals could vary enormously, depending on their resources and quality of staff. Women from religious orders were known to provide some of the most effective and compassionate care. This example, the poor conditions, and the need for women to find employment led to the rapid increase in professional nurses by the end of the 19th century.
Modern Healthcare
By the 1930s hospitals were becoming a staple of society. Instead of relying on relatives for care, people in even smaller communities were able to turn to doctors and seek treatment at medical facilities. Professional nurses were on hand to perform a variety of functions. These included assisting physicians in their tasks, administrative duties, providing for patient needs, offering comfort, providing medication, and much more. Technology increasingly has become an important part of the nursing role.
Changing Technology
Over this time and right up to the present, one of the major influences on healthcare and nursing came from technology. X-rays, new pharmaceuticals, and finally computers, DNA, and automation have become standard. Training in constantly-changing techniques and technology has become part of the nursing profession. Nurses today fulfill any number of critical positions and a variety of specialties. Part of this advancement nursing professionals are using and benefiting from agency management systems like Ankota to reduce paperwork, allowing them to focus on patient care and satisfaction. In addition, agencies are seeking to have the nursing professionals more efficient and seek to move from assigning caseloads to more detailed schedules for service delivery while taking into account patient requirements, continuum of care and other agency and care priorities.

As it's become a more exciting profession, the turnover in nurse staffing has dropped by 12 percent recently.

As people live longer lives, modern hospitals couldn't function without a highly trained, technically savvy nursing staff. That makes it a more secure and respected career choice filled with opportunity. If you're considering this career choice, it might not be a bad idea to look into mba programs. With all the advances in nursing, someone with a solid knowledge of business and technology would be sure to go far.

------

One of Ankota's recent whitepapers, entitled "Seven Habits of Highly Effective Private Duty Home Care Agencies" available for download and we think you'll find it useful. Please click the link or the picture below to download. If you're interested in scheduling an online demo of our home care or care transitions software solutions, just click this button: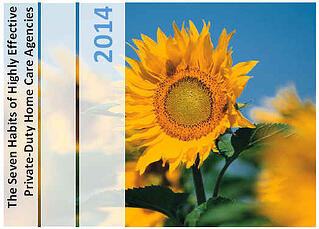 Ankota provides software to improve the delivery of care outside the hospital, focusing on efficiency and care coordination. Ankota's primary focus is on Care Transitions for Readmission avoidance and on management of Private Duty non-medical home care. To learn more, please visit www.ankota.com or contact us.