While building Ankota, I was introduced to another local company caled iGetBetter and was invited to help them develop their technology. Is iGetBetter a great name, or what? Unlike Ankota,

which focuses on helping home care organizations deliver ongoing care and care transitions more efficiently, iGetBetter focuses on the patient and helps them stick to their care plan.
Although not explicitly named, here's a link to an article in the Patriot Ledger talking about how iGetBetter is helping patients with Congestive Heart Failure (CHF) avoid readmisions. CHF doesn't mean that your heart stops beating. Instead it means that the heart isn't getting enough blood to the organs, and the organs don't get enough oxygen and blood builds up in the heart and lungs. Weight gain and swelling in the ankles is a tell-tale sign for a potentiall CHF readmission. iGetBetter allows you to create a patient care plan telling them what to do each day (for CHF or other diagnoses that can cause readmissions).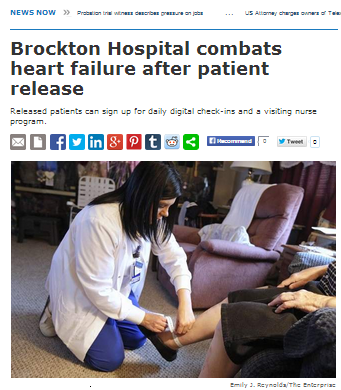 Why is Ankota partnered with iGetBetter?
There are two shifts in health care that all agencies should be embracing, as follows:
Move to Patient-Centric Care: iGetBetter, as a complement to Ankota's care transition software achieves this objective
Coordinating Care between care delivery organizations: Although Ankota is great at connecting the health care ecosystem (e.g., referrals from hospital discharge are sent to you electronically and shared in a HIPAA compliant way with your team members whether they are employees or subcontractors), iGetBetter takes it even further, delivering a full chart of daily vital signs, care plan compliance data and alerts back to the prescribing physician.
If you're ready to move your agency forward by creating a care transitions program, we'd love to show you the software for Ankota and iGetBetter,
Ankota provides software to improve the delivery of care outside the hospital, focusing on efficiency and care coordination. Ankota's primary focus is on Care Transitions for Reeadmisison avoidance and on management of Private Duty non-medical home care. To learn more, please visit www.ankota.com or contact Ankota.