One of the industry experts I learn from every time we speak is Ginny Kenyon, principal at Kenyon Home Care Consulting. Ginny helps open home care agencies and has given Ankota great inputs on our software. We at Ankota strongly believe that keeping elderly people healthy and comfortable in their homes (and out of the hospital) is an important step in the evolution of healthcare. Ginny is one of the pioneers driving moves in home health delivery. Enjoy her post (below).
Online aide education is something many healthcare organizations consider, but may not fully understand the benefits or consider this type of education valuable. Many wonder if online aide education tools are worth the cost. We're here to tell you yes, they're well worth it!
Online Aide Education Tools
Of all the education tools available today, online learning is perhaps the most effective and efficient. It's convenient, written by industry experts, regularly updated, easy to access, and saves your agency time and money. Still not convinced? Here are six examples proving that online aide education tools are worth every penny!
1. Saves Time
Why reinvent the wheel? The time spent developing materials and presenting programs to staff is saved when you provide team members with online education tools. This allows you to spend that time growing your business, networking with referral sources and taking care of clients . Remember the saying, time is money!
2. Saves Money and Prevents Hassle
Speaking of money, offering more traditional methods of aide training can quickly break the bank. If you bring in an outside educator, you're responsible for speaking fees and possibly travel costs for the speaker. Likewise, sending your team members to offsite education events is no less expensive. You pay for their time, accommodations, and other travel fees. And you'll need to find and pay replacement staff to care for clients in your aide's absence .
3. Supports Recruitment Efforts
Every business-savvy professional knows the value of an elite staff. Whether you run a clothing shop or manage a homecare organization, the people you hire have the ability to empower or derail growth. Offering online education is an added employee benefit and an effective way to recruit the best.
4. Improves Retention
Once you've recruited the best aides, it's time to work on retaining them. An employee's happiness and likelihood of sticking around begins with onboarding and a comprehensive orientation. However, this employee investment must persist and become part of the organization's culture. Providing online aide education gives employees a career path within your organization. Providing advanced knowledge and skills ensures they remain loyal staying for the long-haul.
5. Allows for Specialized Services
We've said it before, and we'll say it again. Educating aides beyond the basics opens opportunities that your organization wouldn't otherwise have—namely, specialized services. And when you have the ability to offer clients specific chronic disease care, you're able to increase profits. This more than offsets the costs incurred from online aide education.
6. Increases Referrals
Aide education boosts employees' expertise, confidence and self worth making them happy. Happy aides equal happy clients/families. When clients/families are pleased, they talk which produces more referrals. More clients means more revenue for your organization.
Aide Education Tools And Kenyon Aide University
Our Aide University gives healthcare aides the skills and knowledge necessary to provide five-star client care. It's the only online aide education program of its kind, and teaches aides:
How to recognize red flags and respond appropriately
How to prevent trips to the emergency room and hospital admissions
How to intervene on a client's behalf
Educating your aides is crucial for growth, but can be costly. Online aide education is the best solution. Get started and find out more here.
This article, ARE HEALTHCARE AIDE EDUCATION TOOLS WORTH THE MONEY? first appeared in Kenyon HomeCare Consulting blog.
------
One of Ankota's recent whitepapers, entitled "Selling Care Transition Services to Hospitals" is available for download and we think you'll find it useful. Please click the link or the picture below to download. If you're interested in scheduling an online demo of our home care or care transitions software solutions, just click this button: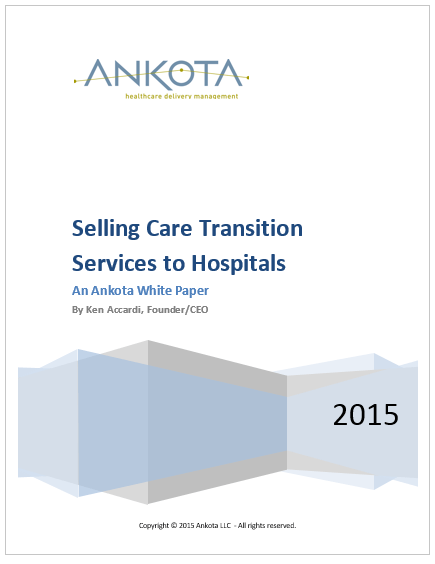 Ankota provides software to improve the delivery of care outside the hospital, focusing on efficiency and care coordination. Ankota's primary focus is on Care Transitions for Readmission avoidance and on management of Private Duty non-medical home care. To learn more, please visit www.ankota.com or contact us.