I grew up in my career at GE Healthcare as a technology guy and I wasn't at all involved in sales. When I left GE to work in a tech company, my role was in technical sales support meaning that I worked with the sales team and did demos and project scoping and answered technical questions for prospective customers. In observing the sales team I was concerned that they were often focused on the wrong things, but since I was new to the world of sales I presumed that I just didn't understand sales. In hindsight my gut was right.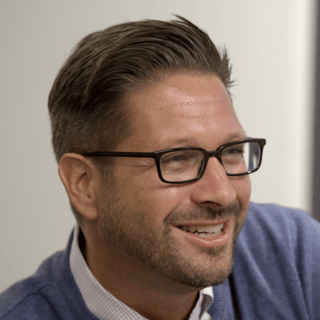 I recently came across an article written by Mark Roberge who is a senior lecturer at Harvard Business School (HBS) and who also works at HubSpot (the company that Ankota uses for our website, blog and marketing automation). The article is called Are You Discussing What Your Buyers Want to Discuss? Or What You Want to Discuss? I usually try and provide a link to the original article, but in this case it came to me as an email and I couldn't find it online. I was however able to find a link to a book review on Mark's book entitled The Sales Acceleration Formula.
Are you discussing what your customers care about?
Mark's article included the graph below that compared what customers want to hear about with what sales people want to talk about. As you can see, they're not well aligned.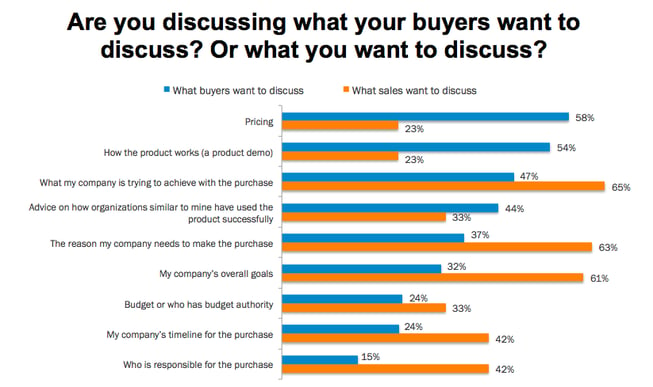 Back to my first sales experience that I mentioned above, the sales guys focused a lot on a concept called "BANT" which stands for Budget, Authority, Need and Timing. The sales meetings mostly focused on the B and the A. "Do they have a budget for this?" and "Who has the authority to buy?" were the main questions. The one customer focused piece, "need," got the least attention. Then timing was discussed but it wasn't from the customer's perspective and rather was "you need to pull this deal into the quarter." The picture above shows that the BANT components are the last things that customers are interested in.
How Does This Relate to

Home

Care

S

ales

?
The data depicted above generally represents B2B (business-to-business) companies who sell their product or services to other companies, but the lessons can be applied to B2C (business-to-consumer) sales as well. A few key takeaway are as follows:
Price is very important to customers: If you are a low price agency you should highlight this. If you're a higher priced agency, you need to focus on your differentiation and the added value.

Use Stories to explain how your service works: How the product works is listed above as the second most important concern of customers. Rather than walking through your brochure (which is likely not highly differentiated), tell stories of how you have helped similar customers and how it delighted them

"Yes We Can" should be your answer to special requests: If you are a private pay agency one great way to differentiate would be the a "yes we can" attitude. Think of the case of a family member who flew into town when their mom fell and injured her hip. This family member doesn't know how to get services in your area, but you do. So if they ask if you can install grab bars, or cut the grass, or get the dogs in a kennel, or drive their mom home from the hospital, if you answer "yes we can" (and charge for the service) then you'll be satisfying the customer, making a few extra dollars and maybe even establishing good partnerships with others who will refer to you.
For more Best Practices, you can download a free eBook Seven Habits of Highly Effective Home Care Agencies. Just click the link or the picture to download!If you're interested in scheduling a live demo of our software solutions, just click the button below: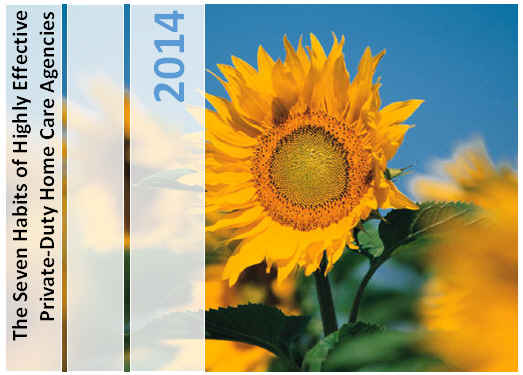 Ankota provides software to improve the delivery of care outside the hospital, focusing on efficiency and care coordination. Ankota's primary focus is on Care Transitions for Readmission avoidance and on management of Private Duty non-medical home care. To learn more, please visit www.ankota.com or contact us.

If you're interested in scheduling an online demo of our home care or care transitions software solutions, just click this button: