For the most part, care transition success is a combination of caregiver skill and a strong process. But there are other factors that can change the odds. We recently shared information about a University of Utah project that is gathering patient inputs to increase the odds of care transitions success.
Today's story comes from Brigham and Women's Hospital in Boston, where researchers have identified correlations between readmissions failures and end-of-life care issues. The story was

shared by Becker's Infection Control and Clinical Quality website and is based on the Brigham and Women's study published in the Journal of Hospital Medicine.
Key conclusions were that end-of-life issues account for 15% of avoidable readmissions and that four key risk factors at least doubled the chance of readmission, as follows:
Neoplasm (which is analogous to cancerous growth) leads to a 560% higher chance of readmission
Opiate Medication Prescribed at Discharge increases the chance of readmission by 229%
Elixhauser Comorbidity increases readmission probability by 116%, and
A Previous Readmission increases the likelihood of an readmission by 110%
What should a care transitions program do about this?
If I were a hospice agency, this might inspire me to start a care transitions program focused on referrals related to end-of-life care because my expertise in providing palliative care services could give me the wherewithall to avoid these readmissions. It might also lead to more hospice referrals for my organization. If I were a home health agency, I may recommend providing palliative care services as part of my offering when these conditions are present.
We hope that your agency will be highly successful with your care transitions program!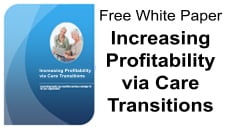 Ankota provides software to improve the delivery of care outside the hospital, focusing on efficiency and care coordination. Ankota's primary focus is on Care Transitions for Reeadmisison avoidance and on management of Private Duty non-medical home care. To learn more, please visit www.ankota.com or contact Ankota.