Below is a very interesting, yet quite sad, infographic about US Life Expectancy verus

health care costs. The infographic comes from the Healthcare Intelligence Network (tm) (www.hin.com), which is a site that regularly produces outstanding and intesting content. The original article, entitled InfoGraphic: The Failure of US Healthcare Spending, was written by Jackie Lyons and posted on March 5th, 2013.
THe bottom line is that despite spending more than any other country on health care, that US life expectancy doesn't even rank in the top 50. A portion of the Infographic is shown below. Please click on it to see the full graphic.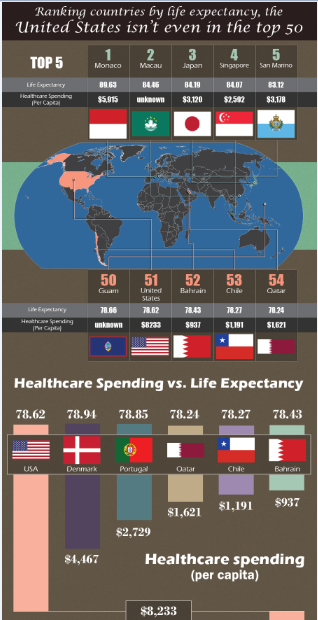 Here at Ankota, we're trying to do our part to increase life expectancy and reduce health care costs by helping care providers who focus on avoiding hospitalizations. Our software helps companies manage transitions of care to avoid readmissions after a hospitalization, and also helps manage home care (to enable elderly people to remain living in the comfort of their own homes. The benefits are profound because avoided hospitalizations reduce cost and improve outcomes and quality of life.
Click on the images below for informative free white papers on readmission avoidance and highly effective home care.
Ankota provides software to improve the delivery of care outside the hospital, focusing on efficiency and care coordination. Ankota's primary focus is on Care Transitions for Reeadmisison avoidance and on management of Private Duty non-medical home care. To learn more, please visit www.ankota.com or contact Ankota.