I came across an interesting care transitions success story out of Houston via this article published on the website www.the-hospitalist.org. Unlike most similar articles that explain the changes that the hospital put in place, this article focused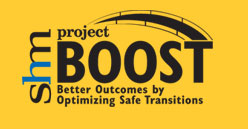 on how the hospital was able to get best practice methodology coaching from excellent physicians. They did so by applying to a project called BOOST that has a cadre of excellent mentors on board.
Even better news is that this program is still accepting applications and you can learn more at the website www.hospitalmedicine.org/boost.
Some of the testimony from participants is as follows:
"I recommend Project BOOST enthusiastically and unequivocally. If implemented efficiently, it could result in a 'win-win' situation for patients, the hospital, and the healthcare providers," says Manasi Kekan, MD, MS, FACP, who serves as HMH's medical director. "As a hospitalist, at times, I have found it challenging to ration my times between patient contact and documentation to meet the goals set by the healthcare industry. Being involved in BOOST and watching tangible improvements for my patients has provided me with immense personal and professional gratification!"
The mentor spoken about in the article was Dr. Jeffrey Greenwald, MD, SFHM, one of the founding developers of Project BOOST. Speaking specifically about the Houston Hospital, Dr. Greenwald indicated that they were a "well-oiled machine" when he started working with them and had a lot of the key ingredients in place. But the article specifically

talks about the ability of the BOOST program to work with hospitals starting at many levels of capability. Dr. Greenwald is quoted as follows:
"I wish I would have had someone like that when I got started," says Dr. Greenwald, who tries to fill that role for others now. "Hopefully, each group moves down the path of making sure they have the right stakeholders, the right communications styles and skills in how to look at data and work with front-end staff."
What can Home Health Learn from this "hospital internally focused" program?
If you're a reader of this blog, you'll know that one of our key missions is to get the home care industry more actively involved in the care transitions arena. We believe that this will help the hospitals in their areas to reduce readmissions. We also believe that home health is ideally suited to be the key provider of care transition services. This is due to their clinical expertise with care and meds, ability to travel to the home, provide transportation, ensure compliance and home safety, and collaborate effectively with the hospitalist physicians who are the focus of the boost initiative.
The key takeaways that we recommend for home care to glean from this article are as follows:
The hospitalists and discharge teams are perhaps the best contacts in the hospital for you to collaborate with
You can go in equipped with the knowledge that excellent hospital care doesn't necessarily translate to fewer readmissions, case in point is this article about Beth-Israel Deaconess in Boston
You might also bring this article and make your local hospitals aware of the BOOST program
If you'd like to learn more from an expert hospitalist who has successfully run numerous care transition programs, check out Ankota's webinar archive of Dr. Marc Greenwald (only coincidentally sharing the same last name as Dr. Jeffrey Grenwald referenced above. You can see Ankota's care transition webinar archive at this link.
If you would like to learn more about the care transitions opportunity, click for the video or whitepaper below:
Ankota provides software to improve the delivery of care outside the hospital, focusing on efficiency and care coordination. Ankota's primary focus is on Care Transitions for Reeadmisison avoidance and on management of Private Duty non-medical home care. To learn more, please visit www.ankota.com or contact Ankota.