Being the Chief Technology Officer (CTO) for Ankota pretty much makes me a geek. So one of the things I'll do on this blog is to help explain what's going on in the technology world to the home health community...
Today's subject is Twitter...
It's not like there isn't enough going on with the web, and social networking and texting and social media and blogs, but now the new thing is twitter. Twitter allows you to send your message to the world 140 characters at a time. This "micro-blogging" site is intended to allow people to follow and contribute to conversations in the blogosphere via your cell-phone (or of course from the Web).
If you've ever used instant messaging from AOL or MSN (or others) then you might be familiar with the ability to describe your status. Essentially Twitter gives you just the status and not the instant messaging.
Even as a geek, I was pretty skeptical of this one and only joined recently. But let's look at what's going on in the conversation about home care and then we can look at how people are using twitter.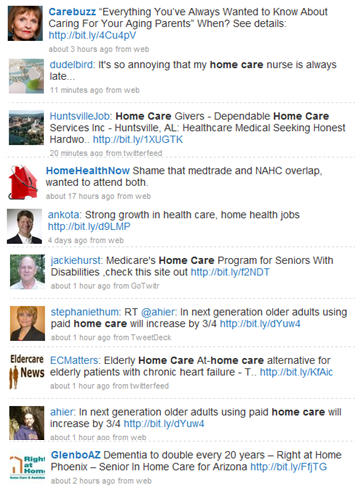 In this sample of twitter messages (called "tweets") above, you see several types of discussions about Home Care. @GlenboAZ, @ahier and @ankota talk about new developments in industry statistics. (by the way, on twitter your name is generally preceeded by the "at" [@] sign, this means that the information is at their twitter account, so @ankota refers to information at the ankota twitter site that is updated by my CEO). @Carebuzz, @ECMatters and @jackiehurst both post articles about elder care. @Huntsvillejob has a home care job posting. @HomeHealthNow talks about the upcoming NAHC and Medtrade trade shows. And then there's my favorite @dudelbird who posts about his frustration that his home care nurse is always late.
So what can we take away from this? Well it looks like we can use twitter to do the following:
See what people are talking about, right now!
Find out the latest statistics about our industry, a chronic illness, health care reform
Post and search for jobs
Find service providers
Get consumer feedback (both positive and negative)
All in all, there might be some value afterall...
Note that if you want to "stick your toe in the water" you can go to twitter and search for postings without setting up an account. But once you decide that you want to "be part of the conversation" then take the plunge and sign up. It's free...
I'll come back to twitter in a future post and talk more about the finer points like "re-tweeting". But we'll finish up for now. Note that if you want to follow Ankota on twitter, go to www.twitter.com/ankota.