One of the tricky things we struggle with when developing software for home care is to determine who we're creating it for. Let's face it, our market today is an older crowd in their 70s, 80s and older. They're not the most high tech bunch out there. So in general, even though we blog and tweet, many of the companies we deal with are just starting to use email.
Having said that, we're confident that this is going to start to shift because our future demographic, the baby boomers, are a pretty high tech bunch. This article from the New York Times shares the results of a study performed by Microsoft and the AARP entitled What do Baby Boomers Want from Technology?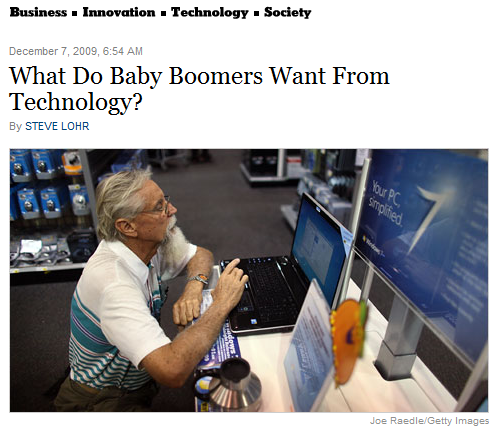 This study, rather than a standard survey, was conducted in a series of dinner meetings around the country. Among the findings and conclusions, one was that technology adoption is no longer going to "drop off a cliff" at age 60, and that boomers are going to be "the driving force in the adoption of information technology in healthcare."
You can read or download the full report (a 28 page pdf) here.
We at Ankota are already working to enable the home care industry to perform well for this new demographic in both small ways and large. We blog and tweet because the future of our industry is tech-savvy... But more importantly, we recognize that the family members of patients today are very interested in being connected to their loved-ones' care, so we offer agencies a way of connecting to those family members via the web. This is a service that will allow you to provide better care, get more customers, and even make more profit. For more information, please contact Ankota.