According to a December 10th article published by NielsenWire, the number of seniors using the web grew by 6 million between 2004 and 2009, and their favorite sites are Google, Facebook and YouTube. Seniors make up 8.2% of unique visitors to social networking sites (like facebook and blogs). By comparison, teenagers make up 8.3%. Click on the banner below for the full article.

Where do Seniors Go on the Web?
The following table shows the top 10 online destinations for US seniors.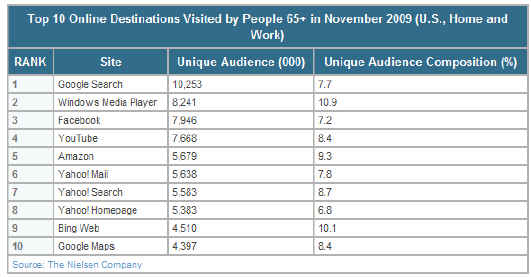 What do Seniors Do on the Web?
Seniors average 58 hours per month on the web. Here's how they spend that time.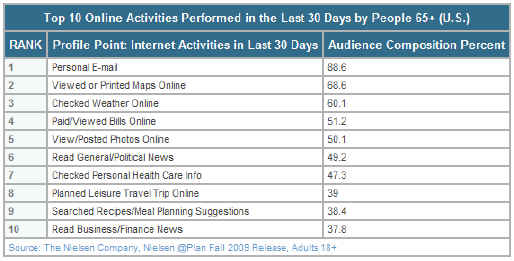 At Ankota, this helps us validate that seniors are willing and able to use the web. Ankota offers web screens for patients to see their calendar for care, set up alerts (e.g., medication reminders), and to interact with their care givers by marking their care items as complete. We are also able to provide information to remote family members about how their loved ones in care are doing. For more information about Ankota's Home Care Software, please contact us.