My plan for Monday through Wednesday of this week was to pilot the Ankota solution with a top-rated home infusion operation in the mid-Atlantic. I arrived as planned on Monday morning, and kicked things off with the users, who graciously shared feedback on the system (they loved it - but the credit goes to them because we built our infusion scheduling features based on their inputs and observations of their operations). They also gave us the information that we needed to configure the pilot. The group director who was our primary sponsor was only able to participate in a small part of the meeting though, because he knew that this week was going to be defined by mother nature and the mid-Atlantic blizzard that we're in the midst of.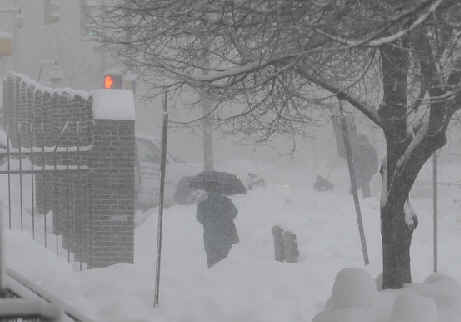 (Baltimore Sun photo by Jed Kirschbaum / February 10, 2010)
Ultimately, the pilot that we had planned needed to be cut short as the remaining key leaders in the operation made rescheduling for the storm their top priority. But, always seeing the bright side, we learned a great deal about how a great home care team executes when the going gets tough, and how our home care scheduling software can help. We also confirmed, as always, that home care people rank among the best people you'll ever meet.
Here are some of the things that needed to be done to manage this weeks blizzard and the way our software helps:
Pull as many of Wednesday's jobs as possible into Tuesday or push them out to Thursday: Ankota's scheduling board (screenshot below) shows you all of the planned jobs for the week on a drag and drop interface. so moving jobs forward or back is simple.
Make Sure that the jobs with critical timing are dealt with at the appropriate time: Visits such as "chemo finish" visits for a 48-hour chemo infusion have a very specific time frame for completion. Ankota's scheduling board let's you know if you've violated a scheduling constraint by changing the patient's name to yellow.
Communicate the Changes to the Care-Givers: Ankota's software changes the visits to a different color when you manually reschedule, allowing you to tell your care workers what changed and what stayed the same.
Plan for Two people per car (in the event that it will be impossible to park and one person will need to hover): Although the Ankota software doesn't specifically have a feature for scheduling two people in the same vehicle, we have the ability to change the work shifts easily for the emergency workers and mark the others as unavailable (and to make sure that all of the time sheets come out right).
Keep non-essential personnel at home: Ankota's web-based software allows your office staff to operate from their home via their internet connection.
Below is a screen shot of the Ankota Drag and Drop Schedule Board that allows you to see status and resolve issues at a glance.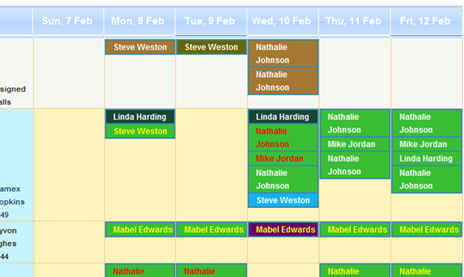 We thank you for all you do to provide outstanding home care, even during a blizzard! If rescheduling was tougher for you than what's described above, please contact us so we can try to help.