I ran across an article last night about EHR's. In the article Terhilda Garrido at Kaiser Permanente stated that surveys and
analysis performed by Kaiser demonstrate "computerized systems" have lead to better care and "some" cost savings. She went on to state that results will improve as people adapt to the technology. The quote that caught me was, "If you give a chainsaw to a lumberjack who's been using an axe his entire life, and he starts hacking at the tree with it, it's not going to help at all. It's what you do with the technology that makes the difference." This explains why a new Harvard Medical School study "suggests" that EHR's do not save hospitals money. In fact, they often end up costing the institutions more. Lead author David Himmelstein of this five year, 4,000 hospital study, stated the study did find several hospitals where EHR's improved efficiency and quality, just not many. The study is available as a PDF document by clicking here.
Often healthcare is attempting to take processes that may not be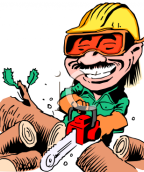 efficient and effective and automate them. With the technology that is available healthcare needs to do what manufacturing did in the 1980's and 1990's. They need to reexamine and "reengineer" their processes to ensure they are not only efficient, but effective as well. The lumberjack needs to understand the power of the chainsaw and how use the tool.
Ankota is the pioneering company in the field of healthcare delivery management and is dedicated to improving the quality and efficiency of care outside the hospital. Our leadership team has a strong background in business process reengineering and brings this discipline to home care. To learn more about Ankota's software for Home Care, please go to www.ankota.com or contact Ankota.