The Home Care Software Geek posts in this blog don't talk about Home Care Nursing Software, Private Duty Telephony, DME Delivery Software, Home Infusion Care Management or the other topics we focus on regularly at Ankota. Instead, these posts are intended to keep our readers up to date with technology trends that might be useful to your agencies, such as social media technologies, mobile devices, and what's happening from the big-boys like Microsoft, Google and Apple.
We're all familiar with Apple, and its CEO Steve Jobs. I personally remember when the first Macintosh computers were installed in the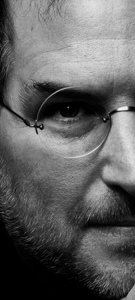 "MacLab" at college and we were all blown away. Although Apple and its founder have had their ups and downs, they've definitely hit their stride now with the iPhone, the iPod, iTunes and the app store, the iMac, and most recently the iPad. But this post isn't so much about the technology, but rather the philosophy of Steve Jobs. He shares 10 life lessons in a blog article on http://www.educopark.com/. The article there is entitled: 10 Golden Lessons from Steve Jobs. I'd encourage you to check out their blog to get the full commentary, but for those of you who want the "Readers Digest Version," here are the 10 lessons:
"Innovation distinguishes between a leader and a follower."
"Be a yardstick of quality. Some people aren't used to an environment where excellence is expected."
"The only way to do great work is to love what you do. If you haven't found it yet, keep looking. Don't settle. As with all matters of the heart, you'll know when you find it."
"You know, we don't grow most of the food we eat. We wear clothes other people make. We speak a language that other people developed. We use a mathematics that other people evolved... I mean, we're constantly taking things. It's a wonderful, ecstatic feeling to create something that puts it back in the pool of human experience and knowledge."
"There's a phrase in Buddhism, 'Beginner's mind.' It's wonderful to have a beginner's mind."
"We think basically you watch television to turn your brain off, and you work on your computer when you want to turn your brain on."
"I'm the only person I know that's lost a quarter of a billion dollars in one year.... It's very character-building."
"I would trade all of my technology for an afternoon with Socrates."
"We're here to put a dent in the universe. Otherwise why else even be here?"
"Your time is limited, so don't waste it living someone else's life. Don't be trapped by dogma - which is living with the results of other people's thinking. Don't let the noise of other's opinions drown out your own inner voice. And most important, have the courage to follow your heart and intuition. They somehow already know what you truly want to become. Everything else is secondary."

Ankota provides software to improve the delivery of care outside the hospital. Today Ankota services home health, private duty care, DME Delivery, RT, Physical Therapy and Home Infusion organizations, and is interested in helping to efficiently manage other forms of care. To learn more, please visit www.ankota.com or contact Ankota.