Sometimes I seek inspiration for blog postings from my twitter lists. As a refresher, twitter is a web site where people can share little bits of information with 140 character messages. The home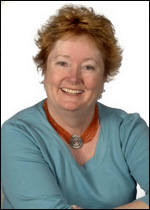 care software geek talks about twitter here. Home Care veteran and marketing guru Merrily Orsini describes twitter as the social media's version of cocktail party conversation - it's not so deep, but it keeps you up to date on what's on people's minds. The traditional way of using twitter is to "follow" the people whose information interests you, but some of us don't have time for that. To help out, I've been building twitter lists for home health and private duty care. By going to one of these lists, you can tune in on the conversation of a whole bunch of related people. The lists are accessable at http://twitter.com/#/list/AnkotaCTO/private-duty-care and http://twitter.com/#/list/AnkotaCTO/home-care. But I digress... one of the conversations topics I see frequently is about preventing falls and the impact of falls on seniors. Let me share a few observations...
According to this post, one out of three seniors in the US experience a fall each year, and every 18 seconds an elder is treated in an emergency room for a fall-related injury.
The afformentioned post also shares that the impact of the fall often results in a fear of falling, which leads sadly to more falls.
Finally, they share that falls is the leading cause of injury-based fatalities among those aged 65 and older
The National Center for Injury Prevention and Control shares that you can decrease your risk of falling via exercise, home safety improvements, medication review and vision checks. The information is available here
One of my favorite private duty agency leaders, Hazel Kuchinsky from Ivory House told me that her agency has only had one fall in
the past year among their hundreds of clients. This makes it clear that there's something you can do about it... So if you want to find a way to differentiate your agency, maybe this is an area that you can focus on. I know that if I were shopping for care and I interviewed Hazel's company and she told me that one in three seniors falls every year and that falls are the leading cause of injury related deaths amoung seniors, and that her agency has had one fall in the past year, I'd take it very seriously.
What differentiates your agency? Is it fall prevention? Is it family communications using Ankota's FamilyConnect? Or are you still struggling to find your focus?
Ankota provides software to improve the delivery of care outside the hospital. Today Ankota services home health, private duty care, DME Delivery, RT, Physical Therapy and Home Infusion organizations, and is interested in helping to efficiently manage other forms of care. To learn more, please visit www.ankota.com or contact Ankota.