The Home Care Software Geek posts in this blog don't talk about Home Care Nursing Software, Private Duty Telephony, DME Delivery Software, Home Infusion Care Management or the other topics we focus on regularly at Ankota. Instead, these posts are intended to keep our readers up to date with technology trends that might be useful to your agencies, such as social media technologies, mobile devices, and what's happening from the big-boys like Microsoft, Google and Apple.
The home care software geek generally attempts to inform you about technology topics that you've heard of but might not understand. The cell phone doesn't fall into that category, but that's because most of us are still thinking of it as a phone and not yet as a health care device, but that's changing. My friend and colleague Dr. Eliot Heller MD was speaking to a group of health care entrepreneurs from France last week and made a point of mentioning that the one constant across his patient base in the Bronx was that they all have a cell phone. Many of these low-income patients from Bronx-Lebanon hospital don't have home phones, but they all have cell phones. In fact, Dr. Heller indicated that the cell phone number is more important and consistent for the hospital to track patients than their address.
Health care delivery efforts have taken notice and are starting to take advantage. Here are some examples:
In the article Cellphone + EHR = Diabetis Management, two programs are designed which help inner city residents of Washington DC manage diabetis. The applications allow people to record their weight, blood glucose and blood pressure and they are given alerts on their phone screen if the values are out-of-range. This initiative is expected to easily pay for itself by reducing hospitalization, and participants are given the cell phone.
My friend Jacqueline Thong started a company called UBIQIHEALTH to help migraine sufferers. UBIQIHEALTH chose to implement their technology on a cell phone, because everybody has one and because the nature of migraines is that you can get them under control better if you track when they happen and what triggered them. Below is the content from their "How We Can Help" section of their website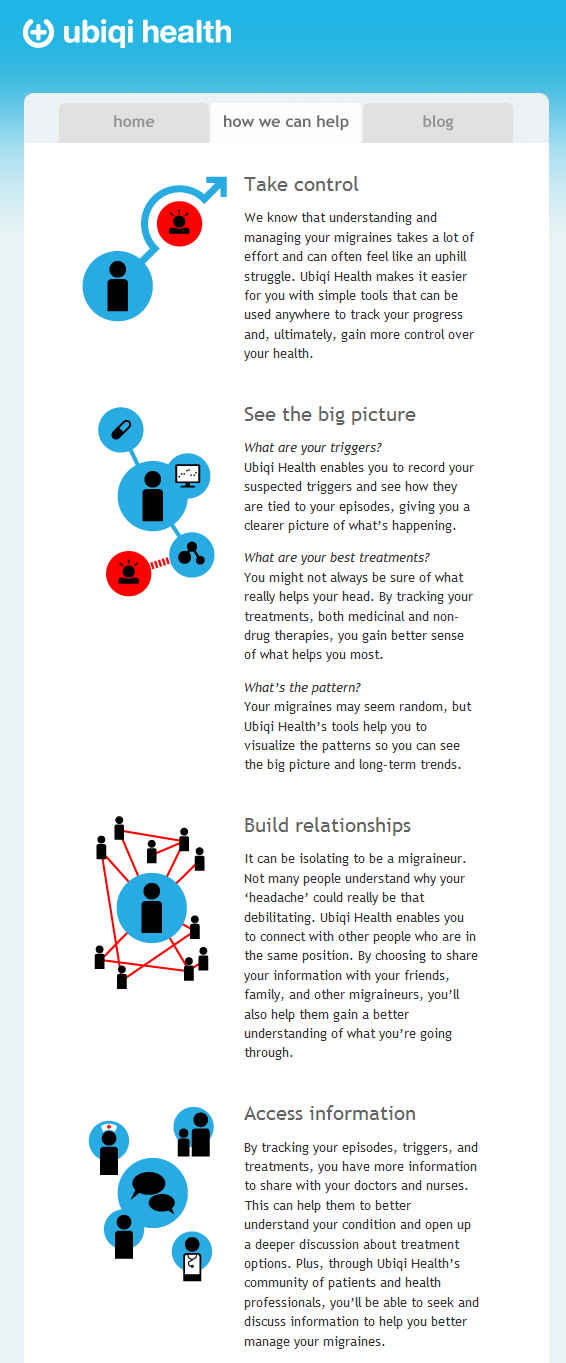 So why is this relevant for home care? Perhaps the cell phone becomes an entry level TeleHealth unit that you can use to monitor your patients or clients at a very affordable price. Remember Ankota's book of the year for 2009 was The Innovator's Prescription, by Clayton Christensen, and that one of his key messages is that that simple applications on devices available to more people often displace the more expensive devices. You can see this explained by Clayton Christensen in a video, here.
Also, here at Ankota we've recognized the potential of the cell phone for home health aides to report their arrivals and departures. As more and more cell phones are replaced with smart phones that can support simple applications and track GPS location, we expect that this will become a preferred option over telephony. But, of course, we offer both and offer them interchangably (you can have some workers use telephoiny and others use their cell phone, and in fact you can even have a worker report their arrival on their phone and their departure on telephony (and vice versa). Read more about Ankota's paperless work tracking solutions here.
Ankota provides software to improve the delivery of care outside the hospital. Today Ankota services home health, private duty care, DME Delivery, RT, Physical Therapy and Home Infusion organizations, and is interested in helping to efficiently manage other forms of care. To learn more, please visit www.ankota.com or contact Ankota.