The Home Care Software Geek posts in this blog don't talk about Home Care Nursing Software, Private Duty Telephony, DME Delivery Software, Home Infusion Care Management or the other topics we focus on regularly at Ankota. Instead, these posts are intended to keep our readers up to date with technology trends that might be useful to your agencies, such as social media technologies, mobile devices, and what's happening from the big-boys like Microsoft, Google and Apple.
Let's start at the beginning and talk for a moment about what cloud computing is... The general idea is that you don't need all of your software to run on computers that you own or have in your office. Instead, the software can be hosted outside of your company and you can access it via the Internet. Another related term is SaaS which stands for "Software as a Service". Again, the concept is that you don't have to buy software and the computers, instead you can use them online, and generally pay a monthly fee. Having said this, there are different ways for your software provider to set up the system and these might impact data security and HIPAA compliance. I'll get more into that below, but first I want to share the article that inspired today's post, entitled "Healthcare Solutions Cloud Up". Click here or on the image below to read it.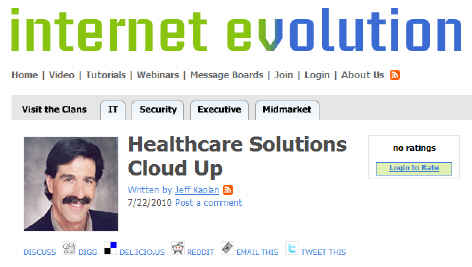 The article author is Jeff Kaplan, who has dedicated himself to SaaS and Cloud Computing. Jeff is an analyst, blogger, consultant, and excellent speaker, and he also runs a site called SaaS Showplace where you can go to find a searchable catalog of SaaS solutions that might be useful for your business.
Some of the key points of Jeff's article, are as follows:
There is an ongoing debate about whether On-Demand computing is OK for health care. Concerns are primarily related to patient information security and availability
On the other hand, improved communication and shared information are key factors in improving the quality and cost of care
There are now several big examples of healthcare applications on the web. Jeff talks about Microsoft Health Vault, Google Health, Dossia and the IBM/U. of Missouri Life Sceinces Research Project, plus others
The bottom line is that there are still questions to overcome, but more and more services are becoming available and adoption is fast
For the especially geeky ones among you, there are multiple ways for your software vendor to host your application. One is via dedicated hardware, and the other is through virtual shared hardware (where software Vendor A's software runs on the same hardware as Vendors B, C, D and more) where the potential advantages are that you have more computers to help when there are spikes in traffic and less computers sitting around idol wasting electricity. Some people call the former SaaS and the latter Cloud Computing. At Ankota, we use the dedicated hardware approach because not all of the security risks of shared computing have been retired to our satisfaction yet.
Ankota provides software to improve the delivery of care outside the hospital. Today Ankota services home health, private duty care, DME Delivery, RT, Physical Therapy and Home Infusion organizations, and is interested in helping to efficiently manage other forms of care. To learn more, please visit www.ankota.com or contact Ankota.