Daniel H. Pink is the author of four provocative books about the changing world of work — including the New York Times bestsellers, A Whole New Mind and Drive, which together have been translated into 28 languages. His research and books are about motivation, and more specifically about debunking the conventional wisdom that money is the best motivator. Instead, he creates a compelling case that the most important motivators are as follows:
Autonomy - the urge to direct our own lives
Mastery - the desire to get better at something that matters
Purpose - The yearning to contribure to something larger than ourselves
If these are the motivators, than we can understand clearly why Home Care can be a fantastic profession.
Dan lays out a fairly compelling set of proof of his argument including the results of scientific experiments and real world examples. One example he uses is about online encyclopedias where he compares and contrasts Microsoft's Encarta - a well managed initiative with pay bonus and incentives, with Wikipedia - an encyclopedia that you contribute to if you're passionate about it and for which you receive no compensation. In Dan's words, "Ten years ago, no sober economist would have predicted that Wikipedia would beat out Encarta", but as we know, it did.
This first video is my favorite of the two. While Dan speaks, a cartoon animator depicts his story. It's 10 minutes long and you can see it by clicking on the picture below.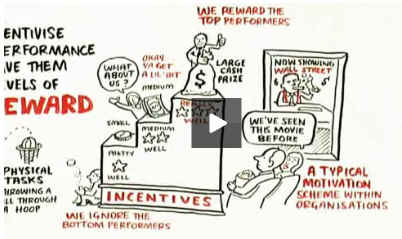 The second version is a stage presentation given by Dan which is 18 minutes below.
Ankota provides software to improve the delivery of care outside the hospital. Today Ankota services home health, private duty care, DME Delivery, RT, Physical Therapy and Home Infusion organizations, and is interested in helping to efficiently manage other forms of care. To learn more, please visit www.ankota.com or contact Ankota.