When people "follow" me on Twitter, I'm always interested to learn

what they do and how it connects to our mission at Ankota. Last week, I was "followed" by Dr. Mary E. Jackson, whose twitter name is DrCares4Seniors. Dr. Jackson is a geriatric clinical pharmacist with 28 years of medical experience. Dr. Jackson just released a new book entitled Lower Prescription Costs: An Easier Pill To Swallow. The book is available on Amazon by clicking here or on the book cover.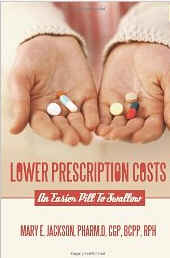 A synopsis that Dr. Jackson shared with me is as follows:
Exclusively focuses on medication costs
Compares medications within a drug class including those available in $4 generic discount programs
Includes a savings tips section for each drug class
Designed for easy use (Dr. Jackson tried to make it as simple as possible since it is primarily for the elderly who may have cognitive impairment)
Uses system similar to hotel & dining guides (e.g. $ = 0 to $25, $$ = $25 to $50, etc)
Provides an example of a medication regimen, offering an alternative regimen that saves nearly 90% - $4,370 vs $470/year (and that's with Medicare D coverage).
Savings on medication costs is a huge opportunity for seniors, and with the help of Dr. Jackson's book, your home care nurses can provide a great service to your patients.
Ankota provides software to improve the delivery of care outside the hospital. Today Ankota services home health, private duty care, DME Delivery, RT, Physical Therapy and Home Infusion organizations, and is interested in helping to efficiently manage other forms of care. To learn more, please visit www.ankota.com or contact Ankota.