As a reminder, you can register to receive automatic email notices when new entries are posted to Ankota's Healthcare Delivery Management blog. Simply look to the right side of this page and you will see the place to enter your email address. No other information is needed. I am excited to report that our registrations and readership have more than DOUBLED over the last month. So, if you are one of the people who have passed along the link or posted it on your own blog—we thank you very much!
Now, on to today's post about Leadership…
A couple of great pieces on the topic of Leadership hit my inbox today and I thought I would pass them along. Rather than analyzing or summarizing each, I will tell you what I like about the article or the site and provide the link so you can read it directly. Enjoy!

1) 10 Things Good Managers Believe on bNet, by Steve Tobak, a well known business strategist and executive coach. bNet is part of the CBS interactive business network, focused on business issues that Home Health Care, DME, Infusion, RT and other home care related companies might find very useful.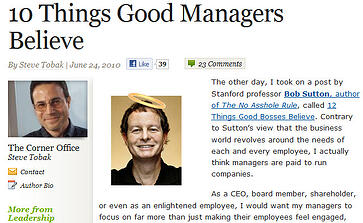 2) Tobak's article draws from another piece that I really like, 12 Things Good Bosses Believe, by Robert Sutton. Sutton writes on leadership for Harvard Business Review and is the author of books such as his newly released Good Boss, Bad Boss (click on the book cover below to see on Amazon.com)
3) Leadership & Perfectionism, by Mike Myatt, Chief Strategy Officer for N2growth. Myatt poignantly acknowledges, "This may be difficult for some to get their heads around, but perfectionism is not a leadership trait." My natural tendency is to be a bit of a perfectionist in business, but I am much more effective and accomplish more when I'm not. Maybe you are the same way. Either way, this piece might provoke some thought.