One of Ankota's customers, a very successful and well run Private Duty Home Care agency with a staff of about 350 aids and RNs, has a situation where they communicate with multiple offspring of an elderly parent that is under their care. Two of the adult children live in other states, and two are local. There are adult grandchildren in the mix, too. Most of the burden of caring for mom falls on one local sibling in particular.
Not uncommon, right?
The CEO of this agency called me this morning and asked, "Do you think it is common practice for a family caregiver to be compensated for taking care of an aging parent?"
He went on to explain that the family asked for guidance on whether the adult child—the family caregiver—should receive compensation. In this case as with so many others, this person is clearly shouldering a big responsibility. Our customer, sensing that this could be a common problem, decided to solicit some thoughts from others.
They turned to Ankota because we study how caregivers communicate with family members. We do this to help guide us in the development of communications tools like FamilyConnect, which have been shown to improve the consistency and frequency of family communications (and save caregivers time!). In so doing, we have interviewed the caregivers, their supervisors, clients, and family members. As an aside, we may explore this with future focus groups to see if it suggests some new types of communications between caregivers and family.
The answer is this: it is not uncommon at all for family caregivers to be compensated. However, home care agencies should be aware that clients may require an elder care attorney's guidance before writing checks.
Howard S. Krooks, an elder-law attorney who practices in Boca Raton, Fla., and Rye Brook, N.Y., says in a recent Wall Street Journal article that nearly all his clients who serve as caregivers are compensated. Such cases make up about 20% of his workload. Click the image below for the complete article.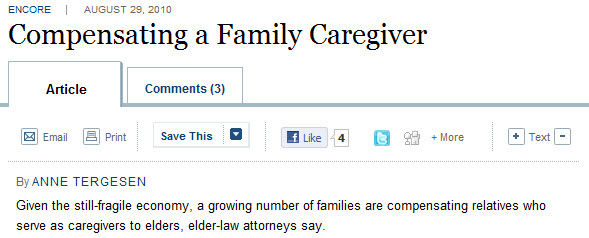 Concerns over what is fair and how much to pay abound, but are only some of the questions that family members should pay attention to. If, for example, the elderly parent may need to rely on Medicaid to fund nursing home expenses in the future, there are laws that they need to be aware of:
"Before Medicaid will pick up the tab for nursing-home costs," the same WSJ article reports, "it requires applicants to recoup certain payments made to relatives over the previous five years -- and use the money to pay the nursing home.
But if payments to relatives are made under the terms of a written employment agreement, often called a personal-care contract, the law allows it. To pass muster with Medicaid, it's important to have such a contract in place 'before the services are rendered,' says Jeffrey Bloom, an elder-law attorney at Margolis & Bloom in Boston."
Sounds scary…and more than a little unfair, but it's the law. It is not difficult to address so long as you get some good advice and do it in advance. I am not a lawyer, so I will point you to a few resources that might help prepare you for when you get this question. Click on the images below to be directed to their respective web sites