Today's post comes courtsey of Jason Tweed from Leading Homecare and is an exceprt from the October 13th, 2010 edition of his weekly newsletter Private Duty Today. Below are links to his home page and his newsletter sign-up. On a related side note, I'm a great admirer of Jason and his business leadership and teaching, which he accomplishes despite struggling with personal disabilities. Jason's personal experience as a recipient of care gives him a unique perspective on how to choose, train and retain a high quality care provider, and we share a glimpse of his expertise below.
by Jason Tweed
One of the questions I refuse to answer is "What should I pay my caregivers?"
There are two reasons I don't answer. Locally, pay rates for caregivers are heavily influenced by several factors. There is no concise answer and averages aren't terribly meaningful. Second, as one of the more prolific writers serving home care companies, I want to avoid even the appearance of antitrust.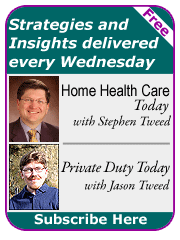 Instead I'll share an example and a method.
I lived in Reading, Pennsylvania up until five years ago. When we moved, to prevent interruptions in care, I hired privately for a period of time. I traveled to our new home in central PA and interviewed caregivers in hotel lobbies as moving day approached. When I told them the starting pay rate was $10/hour (which was on the low side of competitive in Reading) their eyes lit up as if they had won the daily lottery. I had only moved 50 miles. But moving from a midsize city to a rural agricultural-based community, the economic conditions that influenced pay rates were substantial. Today $10 isn't a lottery win, but it's still competitive here.
Here's the method I encourage clients use to determine appropriate pay rates. It's fairly easy.
· Step one: Go to The Gap.
· Step two: Read the newspaper.
· Step three: Look deep into their eyes.
Go to The Gap: Often home care companies base pay rates on what competitors pay. The mistake, however, is calling other home care companies to determine rates of pay. So-called "mystery shopping" doesn't work and is dangerous. When you mystery shop your competitors will pad their starting pay quote slightly. They will also lowball pricing. Mystery shopping tends to give you high numbers on pay and low numbers on price, and if you use this information you will be less profitable.
Instead, look to your real competitors for pay rate information. A typical home care worker is a woman with a high school education. Look to other companies who employ the same demographic. Your competitors for workers are retail, fast food, wait staff and other service-oriented jobs.
I like looking at retail because they don't have to pad pay rates to attract people. Visit The Gap. Most of their staff are young, attractive women. They hire staff that meets their ideal customer demographic. They attract them not with pay rates, but with store discounts. By offering a store discount as an incentive, they are more likely to attract candidates similar to their customers. Therefore, if The Gap tells you $8/hour, this is a competitive rate that just keeps potential candidates from walking out the door.
I tell people to look at The Gap because it's a competitor that most people understand. However, each community has its own set of competitors and pool of potential applicants. Communities heavily focused on tourism are going to have greater demand during vacation season. Communities with manufacturing economies fluctuate with the national economy. The number of first-generation immigrants, the presence of a university, availability of mass transit and other factors can all influence starting pay rates. Make sure to look carefully into your community to determine demographics for your ideal caregivers, then identify the employment competitors trying to capture their attention.
Read the newspaper. Many of your potential candidates will come from newspaper ads. Even if you don't recruit using newspapers, your candidates are reading the classifieds. Look at the methods your competitors are using to attract people. Are they publishing pay rates? Are they offering bonuses? You shouldn't base your decisions on your competitors' offerings, but you do need to differentiate yourself from the competition.
Are you going to compete on price, or are you going to compete on quality? By competing on quality, your advertisements should be focused on the candidates to whom quality is important. Focus your ads on making a difference in people's lives. Focus your advertising on the warm fuzzy things that make for great caregivers. If you want dependability and enthusiasm, ask for it in your ads.
You'll find that, by knowing your competitors, you'll be able to reduce the competition by crafting good quality recruiting materials.
Finally, look deep into their eyes. When offering a pay rate to real candidates, watch their reaction. This is critical. Do their eyes light up and sparkle? If so, you're paying too much. Do they leave the interview saying "Don't call me, I'll call you"? If so, you aren't paying enough. Generally when you have the right number most of your interviewees will smile and ask more about the work. Good caregivers usually aren't motivated by cash. They simply want enough income and benefits to provide for their families and personal needs.
As your company grows you're going to have to constantly monitor the reaction you get from applicants.
Choosing starting rates of pay is more a process then an answer. It's one of the critical components to good recruiting.
My final tip... Don't use current salaries of workers to influence starting salaries. Having a significant pay differential between long-standing workers and starting workers can be dangerous. You make the most money on workers who stick around quite a while, but it doesn't do any good to offer them significantly higher pay because that eats those profits quickly. Conversely, paying competitive wages to current workers and lower wages to new workers will handicap your recruiting efforts. I'm a fan of focusing retention processes away from cash. Find other reasons for your workers to stick around and you will capture the best, keep them longer, and ultimately be more profitable.

Ankota provides software to improve the delivery of care outside the hospital. Today Ankota services home health, private duty care, DME Delivery, RT, Physical Therapy and Home Infusion organizations, and is interested in helping to efficiently manage other forms of care. To learn more, please visit www.ankota.com or contact Ankota