The road to recovery, or better health and quality of life for a home care recipient or caregiver starts with a single step, so today we're happy to share a list of little instant ways you can boost your health, courtesy of Prevention magazine and author Alyssa Shaffer. You can access the full article by clicking on the banner below, where you can get detail on each "boost." We offer you a teaser below by letting you know what each boost is and the way it can help your health: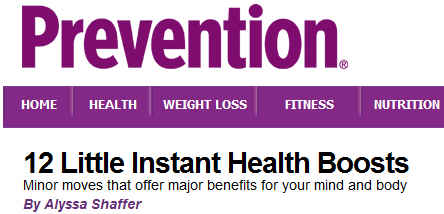 Giggle: Improve blood flow by 21%
Brush and floss:

Cut risk of head and neck cancer by 400%

Brew a pot of tea: Cut stroke risk by 21%
Pen a thank-you note: Feel 20% happier
Hide your TV remote: Whittle 2 inches from your belly
Doodle during work meetings: Improve memory by 29%
Keep your doctor on speed dial: Slash medical mistakes up to 25%
Squeeze your husband's hand: Slash stress by 200%
Strike a warrior pose: Ease back pain by 56%
Grill some fish for dinner: Lower risk of dementia by 19%
Drink milk at breakfast: Shed 5 pounds
Pour a glass of Pinot: Live 5 years longer
Give one or several of these ideas a try for your clients or for yourself!
Ankota provides software to improve the delivery of care outside the hospital. Today Ankota services home health, private duty care, DME Delivery, RT, Physical Therapy and Home Infusion organizations, and is interested in helping to efficiently manage other forms of care. To learn more, please visit www.ankota.com or contact Ankota