After featuring a story from Jason Tweed's Private Duty Home Care newsletter around a month ago, I'm already "going back to the well" and bringing you another gem. This post comes is an exceprt from the November 10th, 2010 edition of Jason's bi-weekly newsletter Private Duty Today. Below are links to his home page and his newsletter sign-up.
by Jason Tweed
Private Duty Home Care is no longer in its infancy. While there are many young companies, there are an increasing number of companies with more than a decade of experience.

For these veteran companies, growth slows or may become non-existent. In the first few years the successful companies saw double and triple digit growth, but now, while still outpacing the economy, natural attrition of staff, caregivers and clients tempers growth.

So how do you regain rapid growth?

Is Growth Needed?

The first step is to decide if you want to grow. As the demand for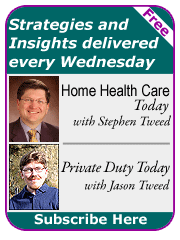 home care grows and the national economy rebounds, a certain amount of growth is required. As we say, "If you aren't growing, you're shrinking." Zero growth means that market share is shrinking. So the simple answer is "yes", growth is needed.

However, rapid growth is not always necessary. If you are the owner or CEO of a company and are maintaining pace with local competitors and the economy, you're doing your job. Profits should be there. Equities should increase over time. The resale value of your business will continue to rise. So, maintenance is required but not rapid growth.

In this issue of Private Duty Today, we aren't talking to the executives who are satisfied. We are speaking to those executives who still salivate at the thought of building a private duty empire.

An Empire Starts with One Castle

Before reading further, you must ask yourself, "Have I built my castle?" Exponential growth requires a solid foundation. In feudal times castles were critical. They were a statement to neighbors that the lord of this manor was in control. Not only were castles essential for defense, but they were also highly functional communities. While much of the land surrounding the castle was used for farming, ranching and hunting, a strong town could survive inside the castle for months at a time based on how well the castle was run.

Before you can grow, you must have a profitable company. The Three Pillars of Private Duty - People, Promotion and Profitability must be solid and stable. You must have the ability to recruit, select, and retain quality people. You must have the ability to promote your products and services with predictable outcomes. Finally, your daily operations must be stable and profitable.

Three Methods of Rapid Growth

Your business is profitable and your equity is high. At this point you have several options. We are going to look at three of them today, which all have the potential of rapid growth.
Merger and Acquisition - Merging with or acquiring another private duty company in your market
Revenue Stream Expansion - Developing additional products to serve existing clients, their families and referral sources
Geographic Expansion - Using your "castle" as a model, open additional locations in other communities
In the next issue of Private Duty Today we will look deeper into each of these techniques for rapid growth. Meanwhile, look at your own company and determine your best opportunity for igniting growth

Ankota provides software to improve the delivery of care outside the hospital. Today Ankota services home health, private duty care, DME Delivery, RT, Physical Therapy and Home Infusion organizations, and is interested in helping to efficiently manage other forms of care. To learn more, please visit www.ankota.com or contact Ankota