Ankota had the priviledge of attending, exhibiting and presenting an educational seminar at the New York State Home Care Providers annual meeting on Long Island and caught a few highlights on Video. Enjoy...
NYHCP 2010 Conference Highlights from Ankota, Inc. on Vimeo.
We especially want to thank the NYSHCP association and members for their efforts to include associate members like Ankota as "part of the family."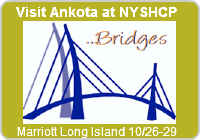 Ankota provides software to improve the delivery of care outside the hospital. Today Ankota services home health, private duty care, DME Delivery, RT, Physical Therapy and Home Infusion organizations, and is interested in helping to efficiently manage other forms of care. To learn more, please visit www.ankota.com or contact Ankota