Lessons from Netflix's success are applicable to the post acute care services market, including Home Health Care, HME, Infusion and more. This post is a little long, but worth it!
Imagine a market with several dominant providers already in place. There is seemingly little you can do to differentiate your service. Prices seem to be fixed already and those who pay for it are demanding that the service get cheaper. Costs are increasing and every indication is that margins will continue to erode. Experts believe that many providers in this market will go out of business soon.

Sound familiar? Well, that might also describe Home Care, but that's the market that Netflix CEO Reed Hastings chose to enter. That was the movie rental business a decade or so ago and it has only gotten worse. Home Healthcare, HME (or DME) providers, Infusion Nursing companies, and even Private Duty Home Care agencies face similar circumstances today. We'll discuss the Netflix case below, and then offer a few steps you can take to improve profitability today and better position your business for tomorrow.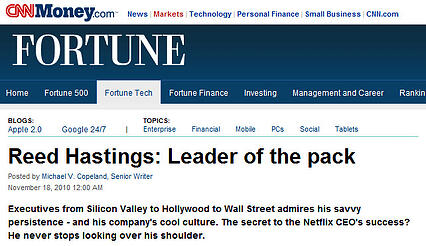 If you're not aware, Hastings took a vulnerable business—movie rentals—and made it a spectacular one for his company, Netflix. Despite the pummeling most people expected the company would suffer from the likes of Blockbuster, WalMart (WMT), Amazon (AMZN) and Apple (AAPL), Netflix has thrived and its stock has outperformed even Apple's. Not only has Netflix been successful in a tired old business while the leader—Blockbuster—went bankrupt, but it has redefined the movie distribution business.
Conventional thinking said that Blockbuster and WalMart already had the customer base, distribution model (stores) and deep pockets, and that Netflix would be doomed from the start. Apple and Amazon already had leading online brands, but no one expected that would take much movie business from the giants any time soon. Moreover, when Netflix was getting started, only about 7% of US households had broadband connections. The belief was that movie rentals was a hardware business (physical tapes you pick up at the store), and the idea of streaming video was impractical, too expensive, and too far off.
Of course, cable TV providers are also in the movie rental business. Time Warner (TWC) piloted streaming movies through set top boxes as early as 1995 (for $25 each), and Comcast (CMCSA) offers rentals through Comcast OnDemand (for about $5-$8 each). My experience with Comcast OnDemand is that it suffers reliability and quality issues, movie selections are limited, and rentals are tremendously expensive compared to Netflix. It is also limited to my TV, whereas Netflix serves through any device with an internet connection, including my iPhone and my TV, all for a fixed monthly price of about $9. And they will still send me DVDs when they cannot offer the selection I want in a streaming format, at no additional charge.
Netflix began by offering DVD rentals through the mail, fully expecting that customers would ultimately prefer to view instantly. They approached it in a unique way with a highly efficient (low cost) distribution model and exceptional customer service, quickly earning market share as a result. Hastings set out, in effect, to build a DVD movie rental business and then cannibalize it with a competing service. Fast forward a dozen or so steps (many of which are highlighted in this Fortune article), including multiple attempts at Netflix-branded set top boxes and failed streaming services. The advent of YouTube was an inflection point that demonstrated that it was indeed practical to stream video on demand in high quality.
I'll spare you the details beyond that but offer this: Netflix approached the market differently. Rather than trying to operate a business with the same entrenched business model (a la Blockbuster), Hastings chose instead to establish a vision for where the market needed to be and then built a plan to get there. The DVD rental business was merely a step along the path towards dominating the video on demand market. They employed various business models to get there and partnered with others along the way to get them there faster and support the large scale they required.
Most of the readers of this blog provide services or deliver products to support post acute care models. Your business is faced with market conditions that are similar to those Netflix faced:
Downward pressure on revenue: Regulatory reform, payers reducing reimbursements
Rising costs: Expenses such as labor, energy (especially fuel), equipment, and supplies threaten profitability
Established, inefficient business models: An industry with entrenched habits and delivery models, and legal obstacles
Additionally, shortages in labor loom large as an aging population and broadened Medicare and Medicaid eligibility threaten to overwhelm the healthcare system.
Ironically, the very conditions that threaten the model may prove to be the catalyst to assure greater utilization of post acute care services.
Evidence indicates that leveraging post acute care models will reduce avoidable readmissions to hospitals and reduce overall healthcare costs.
Lower cost delivery models such as Home Health Care should benefit. The key will be to demonstrate value and to continuously innovate to attract a greater share of the health care services pie.
Ankota defines its market as the "Home Care Ecosystem," which is made up of several types of providers of post acute care services. This begins with transitional care planning (discharge planning), continues with Home Health Care agencies and those that provide necessary equipment (HME companies), medications (Pharmacy) and supplies. It includes those that provide services such as Infusion nursing, Physical Therapy, and Private Duty home care, as well. These companies employ nurses, case managers, physicians, delivery drivers, and personal aids. These are all key elements of the future model for post acute services.
Applying the lessons from Netflix today:
1- Define your vision for the future of care that will be delivered outside of the hospital setting: At a very high level, define your vision for the Home Care model of the future and what your company's role will be in that model. Map the steps you will take to get there. Look to forge partnerships to establish your leadership and get you there faster.
2- Build a super efficient business model TODAY. There are many opportunities to make your business more efficient, and therefore more profitable, immediately. This will have the added benefit of building your competitive advantage today. Leverage technology to improve productivity. Ditch slow, expensive paper processes in favor of electronic ones. Make sure that staff and resources are planned and assigned in ways that optimize their skills and availability, locations, and cost of delivery. Focus on ways to increase utilization and reduce direct costs.
Even the largest home health businesses in the country are incredibly inefficient compared to analogous industries. Studies show that Ankota's optimization technology can reduce miles traveled by 25-35% and increase daily billable visits (or deliveries if you are an HME company). Tracking work electronically as it is performed—even through simple cell phones connected to electronic care plans—can accelerate billing by days or even weeks (as opposed to paper care plans and time sheets ). Whatever productivity software you choose, make sure it is integrated with your ordering system, includes care planning and real time work tracking, and can pass information to your payroll and billing systems. Regardless of your size, you can build a better operating model than any competitor you face. You will see results from these efforts immediately, it will make your business more valuable immediately and it will carry you into the future.
3- From your vision in #1 above, identify &start talking with potential partners. Partners should make your offer more competitive or productive, help provide additional scale to your business, and help you demonstrate value to your customers. Partnering with you should provide them with additional value, as well. Partners might include referral sources such as local hospitals or physician practices, other agencies that provide complimentary services, or HME companies that provide equipment to your clients.
4- Measure success. Measurement should include both cost and "value" metrics. Some key reasons include:
Studies indicate that optimization software (which improves utilization of staff & resources such as vehicles) through better planning, scheduling, routing, etc. can reduce delivery costs by 25-50%. Your business will be more valuable if you understand and track the true cost of providing care or making deliveries.
Measure costs so that you know if you are making your business more profitable (ie, what is your cost per delivery if you are an HME company?). This will also allow you to make improvements and measure the results as you go. Understanding your true costs will help you price profitably as you face issues such as competitive bidding (if you are an HME company) or as you develop new services, seek to establish partnerships, and evaluate new technologies such as telehealth, home monitoring, and so on.
If you are a home health care company, substantiate your value in reducing avoidable readmissions. This will be the key to demonstrating value to referral sources and payers, especially large hospital systems whose referrals you covet. New technologies are emerging that will assist with managing referrals as well as managing closed loop communications among providers who cooperate to provide transitional care. Establishing your role in reducing avoidable readmissions will make your business incredibly valuable to the largest referral sources.
The lessons of Netflix provide a great analogy for providers in the Home Care Ecosystem. Whether you are involved in the planning for care upon discharge or are involved in the delivery of post-acute care services, today's market is a difficult one. Take steps immediately to increase productivity, reduce operating costs, and measure business performance. Establish your vision for the post acute services model of the future, define your role in the model, and devise a plan to move your business in that direction.
Let your competitors be the local video store of home health care. You be the Netflix.