Today's post comes from the publication InPro Outlook (volume I, No.4, Fall 2010) published by the New York State Home Care Providers (NYSHCP). The topic seemed relevant beyond New York state so we're sharing it here. Ankota recently attended the NYSHCP Annual Conference and we offer some video highlights here.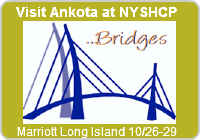 Home care agencies often have employees using their own vehicles or client vehicles on company business. Is your agency adequately protected if there is a serious accident involving your worker?
Business auto policies normally only protect against losses that involve company-owned vehicles, which is why it is important to secure a non-owned auto insurance policy. Employers non-owned auto liability insurance protects your agency from risks associated with employees who are driving their vehicles or a client's vehicle on agency business.
In the event of an accident, an employee's auto insurance policy will
However, in the event of a serious accident with considerable bodily injury to the occupants of the other vehicle, the limit of coverage on the
That is why maintaining Employers Non-Owned Auto Liability Coverage makes good sense for home care providers. Coverage can be purchased either as a stand-alone policy or as an endorsement to your Commercial Package policy that provides General Liability and Business Property protection for your agency.
respond first, and that policy could also respond on behalf your agency,
provided there is no exclusion for business use.
employee's policy might not be sufficient to cover both the employee's
and the agency's liability.
Through either option, the cost of this coverage is relatively inexpensive, and ultimately depends upon the number of agency employees that regularly use their vehicles or client vehicles on agency business.
In addition to securing non-owned auto coverage, it is important to put risk management tools in place to ensure your agency is adequately protected. This includes periodically checking employees' personal automobile limits of protection. If relatively low limits of coverage are maintained by the majority of employees, then purchasing a non-owned automobile liability policy becomes more of a priority.
Whether your agency has one or dozens of employees using their personal autos for agency
Ankota provides software to improve the delivery of care outside the hospital. Today Ankota services home health, private duty care, DME Delivery, RT, Physical Therapy and Home Infusion organizations, and is interested in helping to efficiently manage other forms of care. To learn more, please visit www.ankota.com or contact Ankota
business, it only takes one serious accident to create a significant loss for your agency.