Steve Jobs and Apple are totally on a roll with winning product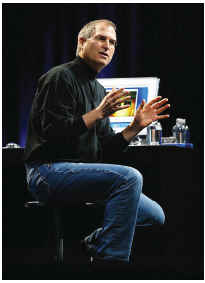 after winning product. Between the iPad, iTunes, iPhones, the Mac and more it's clear that Apple is in touch with today's culture... One amazing thing that should stand out to home care agencies as we reinvent our offerings is that there is always great anticipation for every new Apple product, and much of this can be attributed to the awesome presentations given by their leader, Steve Jobs.
The home care industry is positioned to grow and to win, but so much is changing that an important part of our jobs will be to give great presentations. At a recent tradeshow, Bill Dombi from NAHC explained (paraphrased) that he's never been more excited about the prospects for home care, but that right now there are other organizations not presently in home care who are strategizing how to win. Video of Bill is available here. So we need to make presentations internally to convince our organizations to change and also to potential collaborators so that we can win in the future of home care.
The presentation slides for this posting came to us from Ankota's partner GoToMeeting (who enable our web meetings). The author is Carmine Gallo who is a columnist for BusinessWeek.com. Links to both are below.
This is not a topic that you'll be able to fully grasp just by reading the summary bullets, so I'd encourage you to view the full presentation here. But to whet your appetite, here are some of
the key ingredients that make Steve Jobs presentations so darn powerful:
Create a Twitter Friendly Description
Tell a Story with Heros and Villains
Focus on the Benefits "What's in it for me?"
Sell Dreams, Not Products
Incorporate Fantastic Visuals
Use Zippy Words
Reveal a "Holy Smokes" Moment
Practice a real lot!
Ankota provides software to improve the delivery of care outside the hospital. Today Ankota services home health, private duty care, DME Delivery, RT, Physical Therapy and Home Infusion organizations, and is interested in helping to efficiently manage other forms of care. To learn more, please visit www.ankota.com or contact Ankota