In his first newsletter for 2011, Home health care expert Stephen Tweed shared a compilation of opportunities and challenges for home health care in 2011. Below we share the opportunities, and tomorrow we'll share the challenges. This post is reprinted with permission from Home Health Care Today. Copyright 2011 Stephen C. Tweed. To receive a FREE subscription to this newsletter, log on to www.leadinghomecare.com
Opportunities for Home Health Care in 2011
by Stephen Tweed
Increased Public Awareness of Home Health Care
With the aging population, and new laws on health care reform,

the American public is more aware of home health care than ever in our history. While most consumers still don't totally understand exactly what we do, they at least know that we exist.
That means that more and more consumers will be asking their physicians, discharge planners, and other health care advisers about the availability of home health services. Home health will play a larger role in the conversations between physicians and their patients, and between discharge planners and their patients.
Increased Physician Awareness of Home Health Care
Increased sales efforts by home health agencies, combined with the focus on home and community based care in the Patient Protection and Affordable Care Act (ACA), have provided many physicians with a growing awareness of home health care and the benefits to their patients and to their medical practices.
As physicians become more aware of us, they are more likely to refer patients to home health care if they have a positive experience.

Partnering with Hospitals Around Reducing Re-hospitalizations
The Affordable Care Act (ACA) will have the hospital executives focusing more attention on reducing incidents where patients are readmitted to a hospital with 30 days of discharge. As this provision of the law goes into affect, it will reduce reimbursement for hospitals for patients with heart attack, congestive heart failure, and pneumonia.
It's pretty clear from the data, that home health agencies using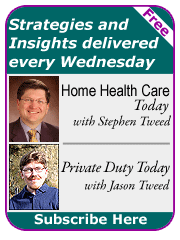 telehealth technology can measurably reduce the incidents of patients being re-hospitalized. There's a real opportunity to partner with hospital leadership to implement programs that help patients, help hospitals, help physicians, and help home health.
Preparing for ACOs, IAH, and PCMHs.
Other provisions in the ACA will establish payment mechanisms and demonstration projects to study new methodologies of patient care including Accountable Care Organizations, The Independence At Home project, and Patient Centered Medical Homes.
As more is learned about each of these approaches, we believe there will be exciting new opportunities for home health agencies to partner with other provider groups and facilities to play an important role in the future of health care delivery.
Ankota provides software to improve the delivery of care outside the hospital. Today Ankota services home health, private duty care, DME Delivery, RT, Physical Therapy and Home Infusion organizations, and is interested in helping to efficiently manage other forms of care. To learn more, please visit www.ankota.com or contact Ankota