As a follow up to yesterday's post on the opportunities for home health care in 2011, today we bring you a compilation of challenges for home health care in 2011 from industry expert Stephen Tweed. This post is reprinted with permission from Home Health Care Today. Copyright 2011 Stephen C. Tweed. To receive a FREE subscription to this newsletter, log on to www.leadinghomecare.com.
Challenges for Home Health Care in 2011
by Stephen Tweed
Medicare Reimbursement Cuts
It's no surprise to you that there are cuts coming in Medicare

reimbursement beginning in 2011 and continuing for several years. What actions can you take to adapt to these new reimbursement rates?
I was having a conversation with a close friend of mine today who is an expert in the dental industry. He discussed how prices of dental procedures have not gone up in the past ten years, but dentists have increased their personal incomes by being more productive.
We've seen other examples of industries where prices are stable or falling, but companies are able to increase their income through improvements in productivity.
Productivity improvements come from automating and systematizing your business as much as possible. Then, you need to get your people involved in finding ways to make themselves more productive users of their time and talents.
New Physical Therapy Regulations
Changing regulations regarding physical therapy that will affect reimbursement will also affect patient care and staff satisfaction. It has been difficult enough for some agencies to find enough therapists to meet the demand for growth. The new regs will add to that challenge. It means agency leaders need to understand the issues and focus action on addressing these issues.
Face to Face Encounter with Physician
Beginning on April 1, 2011, patients will need to have a face-to-face encounter with their physician up to 90 days before admission to home health, or within 30 days after admission. Most agencies are already working on processes and procedures to document these face to face encounters, and software companies are adding features to help track documentation.
Increasing Competition
In 1997, just before the implementation of the Balanced Budget Act, there were 10,444 Medicare Certified Home Health Agencies.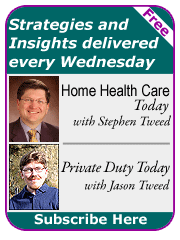 The BBA and the Interim Payment System devastated our industry, and 3,800 agencies went out of business. In 2001, there were 6,681 certified agencies.
At the end of 2009, there were 10,581 home health agencies in business. That's a 58% increase in the number of home health agencies in the past eight years.
Not all of these new agencies were started in your home town. It just feels that way.
There is no doubt that there is much more competition now than there has been since 1997. What are you doing to differentiate your agency from your competitors. Creating competitive advantage in the marketplace is critical in the coming year.
More Sophisticated Sales & Marketing Strategies
In 1997, while there were over 10,400 home health agencies in business, they were not nearly as sophisticated in the areas of sales & marketing. In 2011, you are not only seeing more agencies, but more agencies with more sophisticated sales strategies that are tougher to compete with.
To us, that means there will be a big gap between the growth rates of a few highly successful agencies, and all the rest. Will your agency be among the fast growing agencies, or among "all the others"?
Ankota provides software to improve the delivery of care outside the hospital. Today Ankota services home health, private duty care, DME Delivery, RT, Physical Therapy and Home Infusion organizations, and is interested in helping to efficiently manage other forms of care. To learn more, please visit www.ankota.com or contact Ankota