Some blog articles take a long time to research and others just

pop into my inbox. Today aging in place expert (and my friend) Laurie Orlov shared the news of a study regarding caregivers and technology that I'm now pleased to share with you. The study was performed by the National Alliance for Caregiving (NAC - not to be confused with NAHC) and was sponsored by United HealthCare. You can access the study here.
The overall approach to the study was to have "technology-using" non-paid family caregivers evaluate 12 technologies from two angles:
How helpful is the technology
How large are the barriers to adopting the technology
Here's a graph of the results: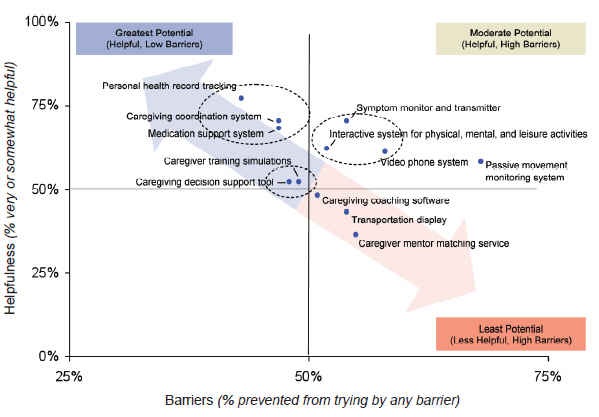 So what can professional caregivers and providers of caregiving technology learn from this? My thoughts are as follows:
Even the technologies that are considered to be the most valuable have boundaries to adoption, so perhaps professional caregivers can differentiate themselves by developing the expertise to get these in place
Monitoring technologies, whether telehealth or passive activity monitoring have high barriers (cost, difficulty, fear of bid brother and more). Again, this might be a case where a professional can help (the classic "I don't trust my son or daughter but I'll listen to a professional)
Vendors can benefit by focusing on ease of adoption as a differentiator
As always, please consider this blog article as just an apetizer. Laurie Orlov has deeper commentary (in her inimitable snarky way) here, and of course you will get a lot more by reading the full study available here.
Ankota provides software to improve the delivery of care outside the hospital. Today Ankota services home health, private duty care, DME Delivery, RT, Physical Therapy and Home Infusion organizations, and is interested in helping to efficiently manage other forms of care. To learn more, please visit www.ankota.com or contact Ankota