The Home Care Software Geek posts in this blog don't talk about Home Care Nursing Software, Private Duty Telephony, DME Delivery Software, Home Infusion Care Management or the other topics we focus on regularly at Ankota. Instead, these posts are intended to keep our readers up to date with technology trends that might be useful to your agencies, such as social media technologies, mobile devices, and what's happening from the big-boys like Microsoft, Google and Apple.
Today's post is about mobile phones and more specifically smart phones (which are the kind of cell phones that let you do email and applications [generally referred to as aps]). Examples of smart phones are the iPhone, Blackberry and Droid phones.
In 2010 there were 67 million smart phones shipped in the US and this year the prediction is 97 million. Given that there are roughly 300 million Americans, we can see that the day of the smart phone is upon us.
So the key questions for home care become the following:
What can I do with a smart phone to improve my service and lower my cost?
Which phone should I get? And do I need to get business phones for my workers?
Our answers are as follows:
Smart phones will become a viable platform for replacing telephony functions, DME delivery racking, replacing phone calls with text messages, automating notifications to and from your workers, and getting directions. Some are looking to the phone as the device for doing nursing and therapy notes, but we're not bought into this on a 3.5" screen
We believe that cell phones have become a personal choice item and encourage you should let your employees get whatever phone they want. Our telephony-replacement works on any smart phone. The tradeoff that we make with this choice is that our ap won't be as attractive as the iPhone and Android aps that are emerging.
And now for the geek stuff... Here's a pie chart of mobile phone operating systems at the end of 2009.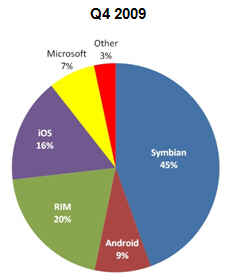 What you'll see is that most phones are not smart phones (they mostly use the "Symbian" operating software) and that Blackberry (RIM) is in the lead, followed by iPhone (iOS) and that Android has a relatively small share.
Moving to the present, we see a very different story: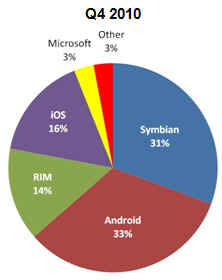 Android is now in the lead especially stealing share from Symbian and RIM is losing ground while iPhone holds their share. The bottom line is that the "mass market" phone of the future is likely to have Android on it, whereas the wealthy and business community is moving to iPhones (where Blackberry is losing share).
We'll keep you posted!
Ankota provides software to improve the delivery of care outside the hospital. Today Ankota services home health, private duty care, DME Delivery, RT, Physical Therapy and Home Infusion organizations, and is interested in helping to efficiently manage other forms of care. To learn more, please visit www.ankota.com or contact Ankota