In recent weeks, the Home Care industry has started to do a lot
of talking

about social media, and interestingly, there are two distinct sides to the conversation... On one side there's a great article by Merrily Orsini on Ginny Kenyon's blog entitled Utilizing the Web and Social Media in Home Care Marketing Strategy. This article outlines the steps you can take to kick off your social media strategy. But on the other side, there's been a very provocative set of discussions on LinkedIn under the topic heading Why Social Media Doesn't Work in Home Care Sales and Marketing initiated by Stephen Tweed. If you follow this blog, you'll know that we've featured great content from Merrily, Stephen, and Ginny and on a more personal level each of these three people have freely shared great advice to Ankota. Here's my perspective:
Referrals Are Key: In the majority of cases, home health and home care clients come to the agency from a referral sources rather than from a self initiated search, thus your primary focus needs to be on the identification and cultivation of referral sources
Yellow Pages are Losing Ground: On the other side of the coin, there are an important number of cases that do come from searching by the individual needing care or their family, and let's face it, Google is the new yellow pages
Web-Search Rank Matters: Your company's position in un-paid Google search results is based on how much clout your site has, and this in turn is based on how many people come to your site, how many other sites have links to content on your site, and other factors like how often your site content changes. And one of the best ways to attract visitors, and links while increasing your content is from blogging
Too Big to Ignore: Similary the numbers of participants in social media are too big to ignore including over 700 million people on Facebook, 200 million on Twitter and 100 million on LinkedIn
Interestingly, I first met Merrily Orsini (the one who advocates for social media) face-to-face at the NAHC conference. And I first learned of Stephen (the initiator of Why Social Media Doesn't Work...) on the web. Lastly, it's important to point out that the Why Social Media Doesn't Work... conversation is in fact a social media conversation.
Bottom line, if I was running a home care company, I wouldn't put all my eggs in the social media basket, but I wouldn't ignore it either, especially on the private care side where a lot of consumers start their search for help on the web.
Merrily's Site:

Stephen Tweed's Leading Home Care: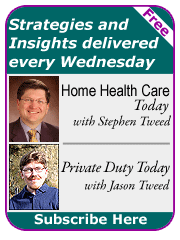 Ginny Kenyon's Site

Ankota provides software to improve the delivery of care outside the hospital. Today Ankota services home health, private duty care, DME Delivery, RT, Physical Therapy and Home Infusion organizations, and is interested in helping to efficiently manage other forms of care. To learn more, please visit www.ankota.com or contact Ankota